Shadows in the Sun
(2005)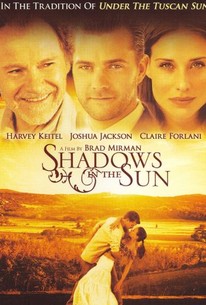 Movie Info
Dawson's Creek star Joshua Jackson stars as Jeremy, a British book editor and aspiring writer seeking a new lease on life, in Shadows in the Sun, an uplifting drama from ABC Family. Sent by his employer to Tuscany to elicit a new book from dried-up (and cantankerous) exiled author Weldon Parrish Harvey Keitel, Jeremy soon finds himself smitten with Weldon's daughter Isabella (Claire Forlani) and gradually connects with Weldon despite the man's initial resistance. Soon, the two men begin encouraging each other to write as romance flowers between Jeremy and Isabella.
Rating:
NR
Genre:
,
Directed By:
Written By:
In Theaters:
On DVD:
Runtime:
Studio:
Studio Eight Productions
Critic Reviews for Shadows in the Sun
Audience Reviews for Shadows in the Sun
Entertaining and easy to watch. I enjoyed Harvey Keitel and the Italian scenery a lot. Joshua Jackson seemed a poor choice for the lead role - very one dimensional and no attempt at a British accent. The love story was given too little time and attention, would have been better to skip that and put more effort into the relationship between Keitel and Jackson. Story is predictable, but nice. Worth the time.
Dave Ferree
½
At the start, the movie Shadow Dancer opened with a young guy played by Joshua Jackson getting ready to go to work in busy London. Then the movie progressed to Italy and when Claire Forlani popped up with her sexy eyes in the movie, it became more interesting. I liked her acting from Meet Joe Black. Harvey Keitel played a burned out famous writer who did not want to see any publishers. Joshua Jackson task was to visit Keitel and see if he could make him write again and signed up a contract with him. There was lots of comedy and great scenes in Tuscany Italy, and all the actors were outstanding. The romance was charming, however, they could have put just a little more romance to it. I missed that.
Daisy Maduro
Super Reviewer
Now this is a double 'eh'. I don't even know why I rented this one. I knew it wasn't going to be any good anyway. Well let's see your typical love story... boy meets girl, boy sleeps with girl, girl rejects him, boy almost leaves, girl wants him back again. Frankly, the girl (Linda Forlani was the actress who I started to dislike ever since Joe Black) was a slut. She slept with him just so she could see what it was like? Pfft! Slut! Next!
Shadows in the Sun Quotes
There are no approved quotes yet for this movie.