Le grand voyage
(2005)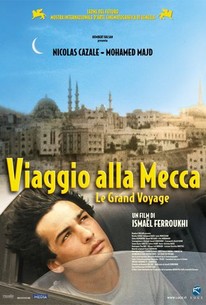 Movie Info
Out of filial duty and a sense of adventure, Reda, a young French man, agrees to accompany his elderly Moroccan father on the hajj -- the pilgrimage to Mecca. It is an obligatory trip for every good Muslim who can afford it. The only catch: the journey from France to Saudi Arabia will be by car. Initially, Reda doesn't understand why his father doesn't simply take a plane and be done with it. His father responds that the pilgrimage should be as arduous a journey as possible to show the believer's faith. And, so it proves to be. Along the way the father and son will cross national borders, seas, even continents, but no distance is greater than the one they cross to come to terms with each other.
Critic Reviews for Le grand voyage
Audience Reviews for Le grand voyage
½
What an interesting movie! Muslim father needs non-muslim son to drive him from their home in France to Mecca. You can slice the tension with a knife, and naturally identify with the son. Wish I had seen this on the big screen. It's beautifully done, and frustratingly satisfying.
Tim MacCallum
I was expecting the father and son to grow together over the course of their journey. I believe that was the intent of the film maker. I kept waiting, but very little true understanding developed between them. They didnt seem to move much further in their relationship than when the movie began. Not a bad movie, but definitely not very exciting...
Cynthia S.
Super Reviewer
½
Although quite interesting, this was a long movie. Father and son embark on a 3,000 mile journey by car to Mecca. Father and son have very little in common and I felt as though I was in the car with them feeling each of the 3,000 miles right a long with them.... It had the potential to be an excellent movie but I found their emotions to be rather blase' (Is that a French word?)... Perhaps some of the finer points were lost in translation as I thought the subtitles to be extremely simplistic. I will have to say the French actor Nicolas Cazale is a beautiful looking young man.
Angela Kitchen
Le grand voyage Quotes
There are no approved quotes yet for this movie.
Discussion Forum
Discuss Le grand voyage on our Movie forum!