Why We Fight
(2006)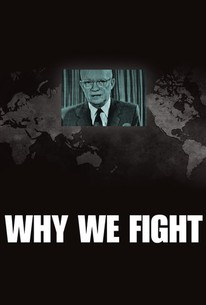 TOMATOMETER
AUDIENCE SCORE
Critic Consensus: A provocative and timely film that explores the military/industrial complex and the motivating forces that lead us to war.
Movie Info
"Why We Fight" is an unflinching look at the military industrial complex and the rise of the American Empire. Inspired by Dwight Eisenhower's legendary farewell speech (in which he coined the phrase "military industrial complex"), the film surveys the scorched landscape of a half-century's military adventures, asking how -- and telling why -- a nation of, by, and for the people has become the savings-and-loan of a system whose survival depends on a state of constant war. The film moves beyond the headlines of various American military operations to the deeper questions of why -- why does America fight? What are the forces -- political, economic and ideological -- that drive us to fight against an ever-changing enemy?
News & Interviews for Why We Fight
Critic Reviews for Why We Fight
Audience Reviews for Why We Fight
Why We Fight discusses America's need to defend the world through war. This is a very interesting documentary that features great interviews by Gore Vidal, John McCain and others on why the US is the only Superpower in the world. This is a powerful film that does make you think and gives you important answers. I found this film to be very good at giving us the facts and it goes in depth with the facts. Although some may not be interested in the subject, those who are should give this film a viewing. The film covers many aspects of why the US uses its military to control and make sure peaces reigns in the world. Many aspect are covered, everything from the Cold War to the war in Iraq. We get to see why the US government tries to concentrate more on its defense than other serious issues. Eisenhower was the first to oppose an extensive National Security policy and warned about the extensive Military industrial complex. We get to understand why the US polices the world and spends more on defense than other nation. This is quite shocking, as you can imagine what other countries spend their budget on. The documentary takes a look at how Military Corporations makes money off the government and it is quite interesting at how all the contractors bid for the biggest contracts for new military hardware. Why We Fight takes an unbiased look at all this, and it's quite effective in giving us both sides of the argument. This is a smartly crafted documentary that is shocking and very interesting from beginning to end.
A documentary-by-numbers, in a sense, and about the Iraq War mostly, but I found this to be as much about Eisenhower than anything else, which was great, because I didn't know as much about him and his meaning when he famously coined the term Military-Industrial Complex. I liked this documentary because it was as damning as a Michael Moore film and much less sentimental, and the message was stronger because of it. There are situations that just make you throw your hands in the air, and the Iraq War is certainly one of them. Worthy of its accolades, no question.
Daniel Perry
Super Reviewer
Good documentary with some great moments of emotional power, but it doesn't say all that much new about the current state of the USA that hasn't already been discussed in superior films.
Why We Fight Quotes
There are no approved quotes yet for this movie.