Cake
(2006)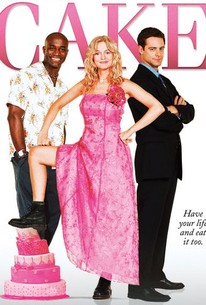 AUDIENCE SCORE
Critic Consensus: No consensus yet.
Movie Info
A single and freewheeling travel writer finds that adapting to the nine-to-five lifestyle isn't as easy as it looks when her ailing father hires her to take control of his successful bridal magazine in this marriage-minded comedy starring Heather Graham, David Sutcliffe, Sandra Oh, and Taye Diggs. Upon returning to her hometown to once again be a bridesmaid in yet another wedding, jet-lagged, gin-soaked travel writer Pippa McGee (Graham) soon learns that her tyrannical publishing magnate father has been hospitalized after suffering a serious heart attack. As Pippa rushes to his bedside and the ailing mogul asks her to take editorial control of one of his most popular magazines, her excitement soon turns sour upon learning that the magazine in question is not a political or travel magazine, but the one and only Wedding Bells monthly. Determined to succeed despite the constant reminders of just how single she truly is, Pippa is horrified to learn that the man her father has chosen as her publishing mentor is the same man that she drunkenly came on to at her close friend's recent wedding.
Critic Reviews for Cake
All Critics (2) | Fresh (0) | Rotten (2)
Recommended to die-hard Graham groupies and gals who really love every simple rom-com that rolls down the pike.
Enjoativamente açucarado e seguindo todas as convenções do gênero, o filme encontra em seu título original e subtítulo brasileiro descrições perfeitas para seu aborrecido conteúdo.
February 25, 2006 | Rating: 1/5
Audience Reviews for Cake
Very standard chick flick, but the cast work well and it's a nice watch. Heather graham really should have been more popular, she does this light type of movie very nicely.
Nicki Marie
Super Reviewer
A commitment-phobic travel helps her ailing father by taking over editorial duties of a wedding magazine. Oh, what this movie could have been. As it is, it's a cutsey, milquetoast romantic comedy that is altogether too happy and upbeat. Perhaps it's because it stars Heather Graham that I thought of one of my favorite moments from Scrubs: Graham's character tells Dr. Cox that he's got a hard candy shell and a nougat interior, and Cox replies, "Lady, people are chocolates. You know what they are? Bastards. Bastard-covered bastards with bastard filling." In this film, Graham's character, Pippa McGee's soft center is on full display from the beginning to the end, and as a result, her transformation into everything that a romantic comedy requires the protagonist to transform to is shallow and empty. But had this film taken her "point A" more seriously, exploring what it's like in all its thrill and emptiness her devil-may-care beginnings, then Cake would have been able to pit the reasonable rejection of love and marriage against the reasonable arguments for these institutions. And judging from her work in Sidewalks in New York, I suspect that even Graham might have the dramatic chops to pull it off. But the directing, acting, and screenwriting are all geared toward the saccharine instead. Oh, what this movie could have been. Overall, I wish the film were more Bridesmaids and less The Holiday.
Jim Hunter
Super Reviewer
An excellent movie!! Heather Graham is hilarious. Taye Diggs, Sandra Oh, and Cheryl Hines are great. This is a great story about a woman who has much to explore, and gain, in the world but has several trust issues. One, is her father. Second, men. She's free-spirited and adventurous. Great love-comedy! Love the music.
Cake Quotes
There are no approved quotes yet for this movie.