Evil (Ondskan)
(2006)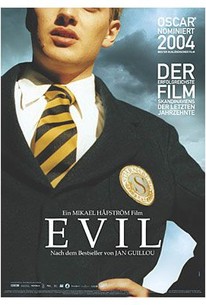 Movie Info
Erik is a 16-year-old boy whose life has been plagued by violence. Tormented by his abusive stepfather, he has hit back in the only way he knows -- by giving a good thrashing to anyone in his way. When he is expelled from public school, Erik is told he has one last chance to make something of himself and is sent to a prestigious private school. This time, he is determined not to mess up. Initially, Erik is overjoyed to escape his unhappy home, but he soon discovers he has merely substituted one prison for another. The school is run by a rigorous and unjust code, enforced by senior students rather than the faculty. In fact, the teachers prefer to ignore what goes on among the students, including beatings and a wide variety of humiliating rites. Soon, Erik is faced with a dangerous choice: confront his oppressors and risk expulsion, ignore them and suffer humiliation, or let his friends suffer for him.
News & Interviews for Evil (Ondskan)
Critic Reviews for Evil (Ondskan)
Audience Reviews for Evil (Ondskan)
Great movie. Lundstrom is amazing as Eriks nerdy friend Pierre. The cinematography and musical score are both really good. One of my favorite Swedish movies.
Melvin White
Super Reviewer
½
This movie really lived up to it's name. These kids were creepy, evil, horrible human beings. I was at the edge of my seat for most of the movie. Thank god I don't know any kids like these kids.
Cynthia S.
Super Reviewer
Gripping film of a teenage boy who's life has been dominated with violence from the world around him, and within his own family. The violence which erupts in the schools shows how mean kids can be, but raises the question of why they are mean in the first place. The main character Erik is expelled from school for lashing out at anyone who he feels to be in his way, and is sent to a prestigious private school where the students may just have more control than the teachers, and run with a rigorous, unjust code that makes sense only to those who run with it. Erik(Andreas Wilson) is faced with the choice of facing up to the madness at school for himself and his friends, or to fall back into the "home" life he fled from.
Evil (Ondskan) Quotes
There are no approved quotes yet for this movie.