Sleeping Dogs Lie
(2006)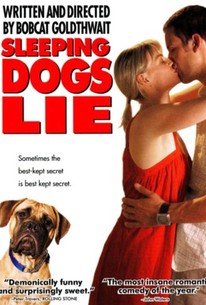 TOMATOMETER
AUDIENCE SCORE
Critic Consensus: Though Sleeping Dogs Lie treats its subject and characters humanely, it's unable to overcome the low-budget production and Bobcat Goldthwait's pedestrian directing.
Movie Info
Amy is a seemingly normal young woman, adored by her parents and golden-boy fiancé. Her future looks bright until her fiancé suggests they tell each other their darkest secrets, things they have never told anyone. When Amy finally relents and reveals her secret, the results are both devastating and hilarious.
People Who Like this movie also like
News & Interviews for Sleeping Dogs Lie
Critic Reviews for Sleeping Dogs Lie
Audience Reviews for Sleeping Dogs Lie
A woman who gave her dog a blow job during college reveals her indiscretion to her fiance and tries to save the relationship. Writer/director Bobcat Goldthwait continues to impress with another off-the-wall concept. He crafts the situations and plot with an ease that is surprising when one considers his eighties screaming comedy. He's also very good with actors, directing a very strong performance from his leading lady, Melinda Page Hamilton (Steve Agee isn't as good, but he can't win them all). The film's composition and pacing is amateur at best. We get short, talky scenes, followed by an expository shot, followed by more short, talky scenes. The result is stagnation, and Amy's emotional arc isn't balanced. She cries at the end of the first two acts, and the scenes are identical, the last revealing little new about her character. The film's theme is what's most interesting. Goldthwait's concept, that, in Amy's words, "It's important to lie. It's trying to live up to the lies that we tell about ourselves that makes us better people," has some validity. But what Goldthwait fails to consider is that no one is without baggage. The goal is to learn from it rather than carry it. While I don't think I can blame Goldthwait for presenting a view different from my own, I do think that his treatment of his theme is somewhat myopic. Overall, I have to get used to the idea that Bobcat Goldthwait has matured into a provocative, growing filmmaker, and Sleeping Dogs Lie is a good introduction to his oeuvre.
Jim Hunter
Super Reviewer
After seeing the triumphant 'World's Best Dad' I saught out this earlier work from Goldthwait and wasn't disappointed. Tackling the fundamental life questions around truth and honesty in relationships, it dares to challenge the romcom cliche 'honesty is always the best policy'. The headline grabbing bestiality is only a comedy device but does seem an excessive example to use to make his points.
Gordon Anderson
Super Reviewer
"A youthful, impulsive sexual encounter opens the door to a dark comedy about the complexities of honesty." An impulsive sexual encounter from her past haunts Amy, an otherwise seemingly normal young woman with a bright future and nice-guy fiancé. But her fiancé has suggested that the couple be completely honest and tell each other everything! When Amy finally relents, encouraged to tell the truth by her coworker and mother (neither of whom really knows what she has to disclose), and reveals her secret, all hell breaks loose. Review Sleeping Dogs" is a sweet little indie romantic comedy about what happens to a nice girl when she admits to her fiancé that she once gave her pet dog a blow job. Yes. You did read that correctly. The nice girl in this movie admits to giving her pet dog a blow job. She performed oral sex on a canine or, if you prefer, she blew the pooch. I thought that "Sleeping Dogs" was just wonderful. Black and mortifying and awful and funny. Black comedy cut from the same cloth as the Todd Solondz movies "Happiness" and "Storytelling". Yes, "Sleeping Dogs" is a little rough around the edges (the lack of budget shows), but the performances are spot on and the script (dealing with serious questions about secrecy and honesty and how much somebody really needs to know about you before it starts to hurt them) is a little gem. The comedian Bobcat Goldthwait wrote and directed "Sleeping Dogs". He was that loony Zed in some of the "Police Academy" films. Who'd have thought he could make such a good movie? And it is a good film. It's very good. Go and see it.
Lorenzo von Matterhorn
Super Reviewer
Sleeping Dogs Lie Quotes
There are no approved quotes yet for this movie.