Free Zone
(2006)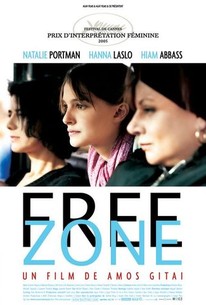 TOMATOMETER
AUDIENCE SCORE
Critic Consensus: The symbolism in this cinematic metaphor on conflicts in the Middle East becomes so overbearing that it's hard to care about the characters or their plight.
Movie Info
A Jewish-American woman still reeling from her breakup with her Spanish-Israeli fiancée hits the road with a middle-aged Israeli woman, who is looking to collect the 30,000-dollar debt owed to her by her husband's former business partner, and a Palestinian woman, who claims to know the elusive moneyman's whereabouts, in this road-trip drama from Kippur director Amos Gitai. In her efforts to escape the painful memory of her breakup with former fiancée Julio (Aki Avni), Rebecca (Natalie Portman) agrees to accompany Hanna (Hanna Laslo) on her arduous journey through Israel to the Free Zone -- a tax- and customs-free region where those from countries at war with one another amiably buy and sell cars -- in hopes of collecting a large debt owed to her by her ailing husband's business partner known only as "The American." When Hanna and Rebecca finally arrive in the Free Zone only to discover that Hanna's contact and money have mysteriously gone missing, a Palestinian woman named Leila (Hiam Abbass) agrees to lead the skeptical Hanna to both "The American" and Hanna's rightly due cash. ~ Jason Buchanan, Rovi
Critic Reviews for Free Zone
Audience Reviews for Free Zone
Leigh Ryan
Super Reviewer
½
[font=Century Gothic]"Free Zone" starts with American tourist Rebecca(Natalie Portman) hysterically crying in the backseat of a taxi in Jerusalem. The driver, Hanna(Hanna Laslo), wants to know where she wants to go because she has an appointment in Jordan. Rebecca figures that is as good as anyplace...[/font] [font=Century Gothic][/font] [font=Century Gothic]Director Amos Gitai takes a page out of Abbas Kiarostami's book by setting almost all of "Free Zone" in a taxi(accompanied by some distracting flashbacks. Well, as long as it gets Carmen Maura in the film...) as it travels through Israel and Jordan. Gitai has even less to say than his Iranian counterpart and the movie does not get anywhere interesting until the end. It is a shame because the movie wastes a valuable opportunity to view the Middle East conflict in microcosm.(It is rather obvious that Rebecca is a representative for all Americans who can leave the region any time they want.) But there are some good thoughts on identity, here. [/font]
Free Zone Quotes
There are no approved quotes yet for this movie.