End Game
(2006)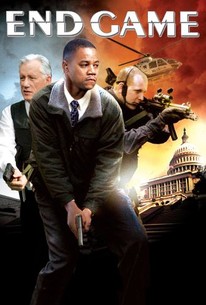 AUDIENCE SCORE
Critic Consensus: No consensus yet.
Movie Info
The president has been assassinated, and it's now up to the Secret Service agent who failed to act in time to save the Commander in Chief's life to solve the crime and get the gunman in a tense tale of political intrigue starring Cuba Gooding, Jr., Burt Reynolds, and James Woods. Alex Thomas (Gooding, Jr.) was the man in charge of protecting the president, but when the time came to fulfill his duties everything just went wrong. His conscience haunted by a bullet and his devotion to his country stronger than ever, Alex teams with seasoned reporter Kate Crawford (Angie Harmon) in navigating a treacherous web of lies, unlocking a dangerous conspiracy, and enter into a deadly world in which skilled assassins and highly-trained ex-special ops lurk in every shadow.
Rating:
R (for some violent/sexual content and brief language)
Genre:
, ,
Directed By:
Written By:
In Theaters:
On DVD:
Runtime:
Studio:
First Look International
Critic Reviews for End Game
All Critics (3) | Top Critics (1) | Fresh (1) | Rotten (2) | DVD (1)
An uncommonly good cast and some thrillingly staged action sequences distinguish this thriller, which otherwise has all the stamps of a direct-to-video item.
Hollywood Reporter
Top Critic
The relatively taut and suspenseful opening half hour, however, is eventually replaced by a far more conventional and unevenly-paced sort of vibe, with the end result a film that's sporadically intriguing but ultimately forgettable.

It all plays out like a wanna-be episode of 24 or a screenplay that was deemed "just a little too good" for Seagal or Van Damme to anchor the thing.
Audience Reviews for End Game
END GAME has all of the outward signs of a good movie. Unfortunately, it does not fulfill its destiny. Expect a few good crashes scenes, explosions, and specks of action ; but overall this well-casted flick falls short in plot, acting, or basic meaning. This type of storyline has been done to death. END GAME does it again, but very poorly.
Mark Womack
A waste of time and money. It had promise but was too fast-paced and was to weakily crafted and filled with poorly drawn action sequences and a waste of a great cast who all could of done better, if the material was better
This film lacks any suspense. From the first scene till the last scene i wasn't any bit interested in the film or the ending. Every scene just seemed dumber and dumber, actors were awful and the screenplay is (well) awful too. Directing is reduced to cheep Steadicam tricks and absolutely nothing works. Only reason i'm giving it anything more than a 0% is the few uplifting moments in which James Woods and Burt Rayndols are actually good.
Matthew James
End Game Quotes
There are no approved quotes yet for this movie.