The Butcher
(2006)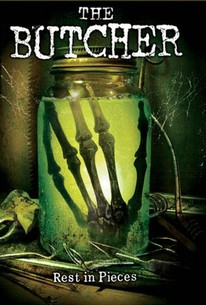 AUDIENCE SCORE
Critic Consensus: No consensus yet.
Movie Info
A tragic car accident in the middle of nowhere finds six stranded college students fighting for their lives after making a horrifying discovery in a remote farmhouse in director Edward Gorsuch's rural frightener. With no place to run and no police station for miles, these doomed students are about to discover that down home hospitality is the last thing on the minds of the murderous family who stalks them through the woods.
Critic Reviews for The Butcher
There are no critic reviews yet for The Butcher. Keep checking Rotten Tomatoes for updates!
Audience Reviews for The Butcher
½
its ok but pretty unrealistic, i mean the weird demon girl in it seems al nice turns out shes bad... its a predicatable movie.
Paul Atkinson
Just another stupid rip-off of Wrong Turn and that whole genre of films that stretches back to the original Texas Chainsaw Massacre. The Butcher is only notable for the fact that it's main characters are even more despicable and worthy of dead than most flat horror movie characters.
Al Miller
There are a lot of things to be said about this movie... none of them are good. My biggest gripe with horror movies today is that most of them are either remakes, updates, sequels, or derivative to the nth degree, this one is no different. The Texas Chain, I mean The Butcher follows the story of a couple of young college students on their drive to a nice vacation in... I think Vegas, but it doesn't matter. They're driving down a country road when a scary deformed man in a truck pulls up to them. So what do they do when they see this unbelievably stock farmer gives them a cold stare? Well they start flashing him of course. Unfortunately the farmer has geniously planned a way to get them to crash their car, distract them long enough to run over some barbed wire, and pop all their tires... oh and drive into a low hanging tree tipping a topless girls upper body off (which is unacceptably impossible). Things get worse when the decide to follow the road instead of going back the way they came. They stumble upon a farm and a farmhouse in the middle of nowhere... and don't think twice about snooping around. Long story short, the family living on the farm turns out to be cannibals, the jerk dies, the black girl dies, the nerdy white guy dies, the white girl escapes in a fiery explosion that is somehow caused by one nearly empty gas canister, and the movie ends with a traditional cliffhanger. This movie blows. I'm usually soft on these low-budget horror flicks, but this one wasn't even trying. The effects were awful, the acting was unfathomably bad, the camera work was boring, the story was derivative (in a bad way), the ending was awful, the music and overall sound design was torture on the ears, the sets were stock, the kills were not frightening in the least, and above all else, the movie was called the butcher, but it was about a farmer! Don't watch this movie, it's pure evil.
Alex Keenan
The Butcher Quotes
There are no approved quotes yet for this movie.
Discussion Forum
Discuss The Butcher on our Movie forum!