Cavite
(2006)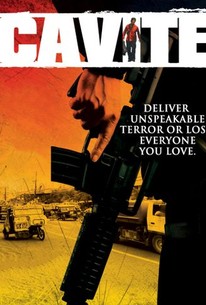 Movie Info
A young man unwillingly becomes embroiled in a terrorist plot in Cavite, a low-budget digital video project from Filipino-American co-writers/co-directors Ian Gamazon and Neill Dela Llana. The film, shot with a jittery hand-held camera that is almost constantly in motion, opens with a panic-stricken man bringing a bomb onto a Manila bus, then cuts to San Diego, where Adam (Gamazon) is working nights as a security guard and seems to be wasting his life away before he gets a call from his mother in the Philippines, telling him he needs to come home. He's sent off by a protracted transcontinental telephone argument with his American girlfriend, but things get much worse for Adam when he lands in Manila. His mother doesn't arrive to pick him up, and he soon discovers that someone has slipped a package containing a cell phone into his backpack. The phone rings, he picks it up, and his life is changed forever. On the other end of the line, a sinister voice tells Adam that his mother and sister are being held hostage, that his every move is being watched, and that if he doesn't do exactly as the voice tells him, his family will be killed. As he's led on a grisly tour of the impoverished Cavite region, Adam, a lapsed Muslim, soon realizes that his tormentor is a member of the notorious Abu Sayyaf terrorist group, which is fighting the Philippine government to get Muslim control of the southern section of the country. While sending him through his mysterious "assignment," the caller mocks Adam for his American ways, and his lack of awareness of his own culture. Cavite was selected by the Film Society of Lincoln Center and the Museum of Modern Art for inclusion in New Directors/New Films in 2006. ~ Josh Ralske, Rovi
Rating:
NR
Genre:
, ,
Directed By:
Written By:
In Theaters:
On DVD:
Runtime:
Studio:
News & Interviews for Cavite
Critic Reviews for Cavite
Audience Reviews for Cavite
In "Cavite," Adam(Ian Gamazon, who made this film with Neill Dela Llana), 32, works as a security guard in San Diego when he gets the call to return to his native Philippines. Along the way, he finds out that the worst place to find out his girlfriend is breaking up with him and intending to have an abortion is at a pay phone in an airport. Upon arriving in Manila, he finds himself in an episode of "Mission: Impossible" when he discovers a carefully placed cell phone and handset in his backpack. The voice at the other end of the line gives very detailed directions and, despite his karaoke aspirations, makes perfectly clear what will happen to Adam's sister and mother if Adam does not follow them to the letter. Of all its early tone shifts, the one "Cavite" is not really aiming for is suspense, as it slowly and carefully dispenses information while showing off the Philippines to their worst advantage, much to the consternation of the local tourist council. As much as the movie wants to have something thoughtful to say on the local situation, one has to wonder whose side the movie is on, not just politically, but also philosophically, especially with a protagonist as feckless as Adam.(Anytime someone uses a specific age north of 30 in a movie is not out to be kind.) The kidnapper uses homophobic slurs, not so much to be hateful, but as a way of going after Adam's masculinity while also questioning the level of his beliefs. And as much as the movie wants to shock us with racism in the epilogue, I am pretty sure nobody has ever said those exact words before.
½
This movie did for me and the Philippines what Hostel did for me and Eastern Europe........ Ya I wanna travel but not those 2 places ..........
Charles Schletzbaum
½
I know I am late doing this. But I am still compeled to make a comment. I have visited Manila, and Cebu. I am an American married to a Filipina. This is a reality most Americans never see unless they have been in the military or peace corps and spent time in the P.I. I have walked around in squatters camps and personally smelled the stinch or the garbage in some streets. Yet the Filipino people survive and can be very friendly to visitors to their country. In the US we are very material minded. Therefore facing reality is not something we are mature enough to accept. We take for granted all we are blessed with. Surprising that even when you ride a jeepney. You can pass your fare from one rider to another and nobody tries to keep or steal the fair. They like many Mexican people are extremely hard working people. They are frank to the point and do not play games like many other people from other countries (like ours) do.
Reynaud Cummings
Cavite Quotes
There are no approved quotes yet for this movie.
Discussion Forum
Discuss Cavite on our Movie forum!