Headhunter
(2005)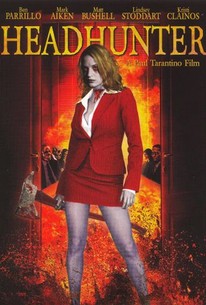 AUDIENCE SCORE
Critic Consensus: No consensus yet.
Movie Info
An ambitious young businessman finds that getting ahead in the corporate world can truly be murder in director Paul Tarantino's supernatural shocker. Ben Caruso (Ben Parrillo) was looking to move up in the world when a friend suggested he seek the assistance of sexy corporate headhunter Sarah Tierney (Kristi Clainos), but he never realized the price he would have to pay for her services. Soon after finding Ben a high-paying job on the graveyard shift, Sarah's unrelenting sexual advances serve as a blindingly seductive precursor to the otherworldly horrors that lie ahead. When Ben finds out that Sarah was decapitated ten years ago and his true new job is to join the tortured souls of her previous conquests in locating her missing head, James finally finds out just how literally this headhunter takes her job.
Rating:
R
Genre:
Directed By:
Written By:
In Theaters:
On DVD:
Runtime:
Audience Reviews for Headhunter
[center][font=Century Gothic][size=3][img]http://images.rottentomatoes.com/images/movie/coverv/38/338038.jpg[/img] [/size][/font] [/center] [center][font=Century Gothic][size=3]Peter Campbell has purchased an out of the way farmhouse and is fixing it up to open it as a bed and breakfast. What Peter doesn't know is the malevolent past of the home. In the 50's a witch that went by the name of the Tooth Fairy lived there. She lured children into the home with the promise of a shiny new bike for exchange of their tooth. What the children did not know is that the Tooth Fairy killed them. Legend tells that the teeth that the Tooth Fairy collected represented the souls of the children and gave her dark powers. The slain children were forced to walk eternity as wandering spirits.[/size][/font] [/center] [center] [/center] [center][font=Century Gothic][size=3]In come Peter's wife Darcy and his little girl Pamela. Pamela meets a "neighbor" girl and learns of the horrible tale of the Tooth Fairy. She also learns that the Tooth Fairy has a magic music box and it must be stolen and the witch set on first twice to kill her. As luck would have it Pamela knocks out her last baby tooth and sets the Tooth Fairy in motion again and the blood bath begins. No teeth are safe nor are any lives safe. This is one mean fairy and I wouldn't want her coming to visit me. [/size][/font] [/center] [center] [/center] [center][font=Century Gothic][size=3]The Tooth Fairy as a movie itself is kind of like being at the dentist and having Novocain. Not very exciting. What it does do well is be violent and gory. The story is flat and blah. But the gore is pretty darn gruesome. Death by wood chipper, axe killings and more. The acting is so so and no more. The movie is slow to start but once the first death starts, watch out it's one bloody ride after that. [/size][/font] [/center] [center] [/center] [center][font=Century Gothic][size=3]If you dare watch this, then don't expect any real story. Just expect killing, blood and one mean ass fairy. The Tooth Fairy gets a fresh rating just for the gore alone. Had it had a better story and acting it would have been higher. [img]http://images.rottentomatoes.com/images/movie/coverv/44/359844.jpg[/img] Oh my! You know a movie is bad when it leaves even me speechless. Truly. I'm at a loss for words to describe this. I know some of you are probably chuckling. Go ahead laugh away. [img]http://images.rottentomatoes.com/images/user/smilies/tongue.gif[/img] Ever have a job and want more? Sure we all have. Ben Caruso is just the same. He wants more. He gets hooked up with a "Headhunter" from a client of his. Funny thing is that this headhunter works in the dead of night. You wouldn't find that strange? No that's not strange at all. Well Ben accepts a job at this so called great company. Awesome pay but down fall is that he has to work the graveyard shift and it's a desk job. No biggie since the company is paying him 75k a year. Ben starts his job and finds he's the only one there except for some odd balls roaming the hall that stare at him. Turns out that Ben's Headhunter is truly just that. A ghoulish spirit looking for her head. She's evil incarnate and if Ben does not find her head he will loss his. Ok, in a nutshell the acting stunk, the story stunk, the camera work stunk. It just was totally rotten. I kept hoping it would get better and by half way through I knew it wasn't going to but hey I had half a bag of popcorn left. I think my time would have been better spent sitting in front of my fish tank finishing up my popcorn then watching this stink fest. Skip it, steer far away from it. [/size][/font][/center]
Kat G
Headhunter Quotes
There are no approved quotes yet for this movie.