The Maid
(2005)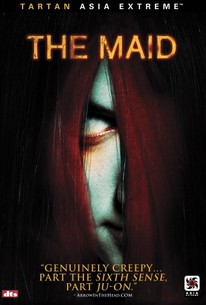 AUDIENCE SCORE
Critic Consensus: No consensus yet.
Movie Info
When a young woman from the Philippines arrives in Singapore to begin work as a domestic maid, her naïve lack of superstition leaves her an open target for the undead as the gates of hell come blasting open in a terrifying tale of the supernatural directed by Kelvin Tong and starring Alessandra de Rossi. In the seventh month of the Chinese calendar, legend has it that the souls of the damned ascend from hell to walk the Earth; however, there are a series of secrets to avoiding their wrath. From not going for a midnight swim to never turning around when you hear your name called in the darkness and never conversing with strangers on a deserted road, humans can avoid a horrific fate if they simply remain steadfast in their determination to shun evil for 30 days. Rosa (de Rossi) is an innocent, though, and upon arriving for her new job in the seventh month, she carelessly breaks every rule intended to keep the living safe from the murderous powers of the underworld. A box-office hit in its native Singapore, director Tong's homegrown tale of horror arrives stateside to test and fray the nerves of Asian horror lovers who previously suffered sleepless nights as the result of such films as Ju-on and Ringu.
Critic Reviews for The Maid
All Critics (1) | Fresh (0) | Rotten (1) | DVD (4)
[Director] Tong seems to think that throwing in random 'scary nightmare' images, arty black and white and slo-mo, plus adding a lot weird sounds, is going to frighten the viewer.
Audience Reviews for The Maid
I was originally going to watch two previous movies before I settled on this one. Moss, a Korean movie, was way too fucking long and I was short on time. Tokyo Zombie, a Japanese movie (duh) had English dubbing, and I refuse to watch live action foreign film in any other language than the original. So, I settled for this. It's a pretty bad movie. As far as plot, it's actually better than the average J or K-horror in the sense that it doesn't purposely try to confuse you. So that's good, but this movie fails on every other conceivable level out there. The acting is pretty goddamn horrendous. This is due to the fact that a lot of the dialogue is English and some of these actors just can't speak the language all that well, so it makes the entire production look completely low-rent. This is probably not an issue in Asian countries, but goddamn. For all I know, some of these people were actually good...but you wouldn't know it. Is it that hard to cast someone from the Philippines that also speaks the native language and just have her perform the script in that language. Alessandra de Rossi's English was actually really good, it's just everyone else around her, when speaking to her, that was terrible. Just low-rent presentation. The movie, while with an interesting subject with the Chinese seventh month, just isn't that interesting. And with the shitty acting, it makes it worse. The movie also does try to throw in more scares than your typical J/K-horror movie, but it's not like it's all that scary either. It just feels out of place. The climax of the movie also feels like fucking amateur hour. Maybe I'm just being too harsh on this movie. Maybe Lake Mungo has made me expect more from horror movies, but I just hated this movie. I can't find any reason, other than monetary, to justify this film's existence. Just avoid by any means. Go watch the original Shutter, which is much better, if you really want to watch this type of movie.
Jesse Ortega
Super Reviewer
½
To quote the closing credits: "Every year, for 30 days during the lunar 7th month, the chinese believe that the gates of hell are thrown open. Vengeful spirits or hungry ghosts wander among the living, seeking revenge and justice before the gates of hell are closed for another year". This belief is the basis for The Maid. 18-year old Rosa (de Rossi) comes to Singapore to work as a maid for a married couple who happen to belong to a chinese opera troupe. Right away, the couple begins teaching her about the "7th month" as they make offerings on their front sidewalk. Rosa, however, believes she has somehow offended the spirits when they begin to follow her about. As a stranger, she continuously seems to make spiritual blunders. Soon, the couple brings home their mentally challenged son, "Ah Soon", a large adult with the mind of a child. Although Ah Soon carries a vaguely threatening presence, she soon befriends him, and simultaneously starts having terrifying dreams (one in particular, about her brother whom she's come here to work for in order to pay for his operation). The Maid follows in the tradition of "The Grudge" and "The Ring", there's a strong asian horror aesthetic (which doesn't always translate well to western audiences). It's a decent enought twist at the end, but the movie is more creepy than scary. If I were to compare it to another movie, I'd say it's very similar to the film "Skeleton Key".
Devon Bott
Super Reviewer
½
tried to get into this moie..ultimately got bored, could not finish..
The Maid Quotes
There are no approved quotes yet for this movie.