The Big Animal
(2000)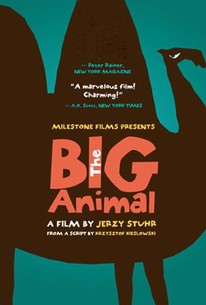 Movie Info
Working from a recently rediscovered script from late Polish filmmaker Krysztof Kieslowski, veteran actor and frequent Kieslowski collaborator Jerzy Stuhr directs this wry fable about intolerance and individuality. The film opens with bank clerk and clarinet enthusiast Zygmunt Sawicki (Stuhr) discovering a huge two-humped camel in his garden -- apparently left behind by a traveling circus. Though his schoolteacher wife Marysia (Anna Dymna) initially doesn't know what to make of the cud-chewing animal, Zygmunt takes an immediate shine to the beast, and takes it in. His fellow villagers also seem to take to the camel: Zygmunt is greeted warmly as he parades it around their little town, and Marysia's pupils clamor over each other to name the animal. However, the townsfolk soon grow tired and suspicious of the beast. Friends and neighbors start to avoid the Sawickis, and children are forbidden to go near the animal.
Rating:
NR
Genre:
,
Directed By:
Written By:
On DVD:
Runtime:
Critic Reviews for The Big Animal
Audience Reviews for The Big Animal
ever wanted a Camel, Watch this and you might just wish you had one. Beleive this is a Polish Film, Subtitles, so bear with it and enjoy. If you see it get it.
Bruce Bruce
Super Reviewer
A small travelling circus abandons a two-humped camel outside of a village in rural Poland. It wanders into the yard of a quiet middle-aged couple named Zygmunt and Marysia. They decide to keep it. Zygmunt proudly leads his new pal through town on a leash. The adults make good-natured jokes and the children are delighted. At first, that is. Soon, the other townspeople want to use the camel for money-making purposes. The photographer wants to rent it for photo-shoots. The mayor wants to feature it in a mini-zoo to attract visitors to the village. The police want to shear it to make coats. Zygmunt considers these requests to be exploitive and so he refuses, choosing to keep his much-beloved camel as purely a pet. Then the townspeople turn on him. There are taxes levied and petitions signed and summonses to appear before the village board. "What if everyone wanted to keep a camel?" they ask him, by way of explaining the sudden opposition. It's "useless to the community", they claim. Now Zygmunt is ostracized when he takes his camel on its daily walks thru town. He's all but forced out of the town orchestra. Parents pull their children out of the school run by Marysia. But Zygmunt and Marysia don't give in to the pressure. They build their friend a little camel house adjacent to theirs. They feed him lettuce through the kitchen window while they eat their own dinner. Marysia knits him a blanket with holes for his humps to poke through. Zygmunt plays the clarinet for him. They treat him like a kind of surrogate camel-child. I found this movie to be really sweet and sad. It's the first one that's made me feel any sort of emotion in a while, other than disappointment. Based on a screenplay from the 70's, I've read that it's really meant to be a satire of communist Poland. Perhaps. But historical context aside, the rejection by society of ideas and people who don't quite fit in seems timeless.
v h
The Big Animal Quotes
There are no approved quotes yet for this movie.