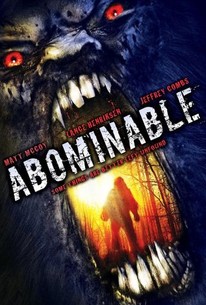 Abominable
2006, Horror, 1h 34m
15 Reviews
5,000+ Ratings
Where to watch
Free
Rent/buy
Rent/buy
Rate And Review
Movie Info
After recovering from a horrific accident, paraplegic Preston Rogers (Matt McCoy) moves back into the remote cabin where he and his now-deceased wife once lived. When one of his new neighbors, Karen (Ashley Hartman), is attacked by a gigantic ape-like beast, Rogers contacts the local authorities. But after the police -- and even his personal nurse, Otis Wilhelm (Christien Tinsley) -- dismiss Rogers as a delusional widower, he sets out to stop the abominable creature himself.
Audience Reviews for Abominable
A creature feature about Bigfoot in the wild killing dumb but attractive people. Yup, that's it.

This movie is very slow paced. Very. The creature looks very fake. It has very stale acting. But that doesn't stop this gorefest to being a very awesome yet graphic horror movie.

Well despite a few decent actors involved ( Gleason, Henriksen, McCoy) this is total B-movie schlock as if you didn't realise already. It takes AGES to actually get to the point of the film which is simply a Bigfoot type creature running around in the woods killing some sexy girls and a few other guys in some remote cabins. Its OK I suppose...in places, but really terrible once the creatures face is shown, laughably so. A few nice moments here and there with the creature but most of this is painfully bad. Visually the story almost plays out like the original 'King Kong' with dumb screaming girls being grabbed by big hairy hands whilst the annoying McCoy just sits in his wheelchair (yes you read correctly) and watches shouting out the occasional 'hey watch out!'. Gotta love the ending though, almost like a 'Scooby Doo' moment.

Low budget horror movie. It is Rear Window+Bigfoot blend. The acting is not good but has a couple of cool moments and death but for the budget it was well done.
See Details