The Magus
(1968)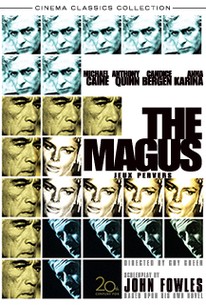 AUDIENCE SCORE
Critic Consensus: No consensus yet.
Movie Info
In Guy Green's adaptation of John Fowles's acclaimed second novel, Michael Caine plays Nicholas Urfe, an English schoolteacher evading serious romantic commitment with stewardess Anne (Godard muse Anna Karina). As a last resort, Urfe escapes the clutches of his paramour by accepting a professorship on the Greek island of Phraxos, and, upon arrival, promptly discovers that his predecessor committed suicide. Via a clue left behind in the room of the deceased, Urfe soon encounters Conchis (Anthony Quinn), an impresario/psychic/black magician/filmmaker who may have been responsible for the former professor's death, and who twists Urfe's mind and perceptions, while subtly leading the young man down the path to higher consciousness. Urfe also discovers the radiant Lily (Candice Bergen), a Diana-like figure (and possibly a literal goddess incarnation), with whom he becomes instantly smitten - and who just happens to be Conchis's lover. ~ Nathan Southern, Rovi
Rating:
PG
Genre:
, ,
Directed By:
In Theaters:
On DVD:
Runtime:
Studio:
Fox
Critic Reviews for The Magus
All Critics (1) | Fresh (1) | Rotten (0)
Caine e Quinn estabelecem uma forte química em um filme complexo que não se preocupa em ajudar o espectador a compreender seus intrincados jogos psicológicos. Peca apenas pela trilha sonora inadequada e por uma atuação sem vida de Bergen.

Audience Reviews for The Magus
½
This movie is worth seeing as an artifact of its time, but not on its own merits as a film. Michael Caine is too old for the role of Nicholas Urfe, and he gives a flat and disengaged performance. Anthony Quinn fares better as the mysterious Conchis. The novel is 600+ pages of intrigue and philosophy, and it's not going to translate to the screen without heavy editing. Unfortunately the screenplay chops up the plot to the point of incoherence. Some changes (like Australian Allison becoming French Anne) seem pointless. The best thing you can say for the direction is that the location is very pretty. The plot twists that are gasp-worthy in the novel are unfortunately baffling to unintentionally funny in the movie. I would love to see a modern remake of the Magus in the hands of David Fincher, or perhaps David Lynch. The Magus deserves better treatment than this film.
suz ev
This movie is pretty interesting and mysterious until you get to the horrible ending. I liked Caine in the movie, but that's about it. This movie is so-so.
Yes, Woody Allen famously stated if he had his life to do over again the only thing he would change is to not see this film. An understandable quip, but don't be entirely put off by it. It IS a quite poor adaptation of an amazing, mysterious and voluminous novel (which I could not put down once started). However, its uniqueness makes for difficult cinema, even with author Fowles crafting the screenplay. Michael Caine is the pawn; a teacher who runs away from Britain and his romantic commitment there (Karina) to take on a boarding school position in Greece (shot in Majorca locations). Quinn's the chessmaster, puppeteer, mystic/magician, who weaves Caine up into a set of logical impossibilities surrounding the presence of temptress Candice Bergen. Including the impossibility that Caine can see her standing at the foot of a cliff ... and atop it ... at the very same time. Every step Caine takes toward the solution ends up two steps further away - but ever closer to the center of the black widow's web within which Bergen awaits. Soon enough, both Caine and the viewer teeter on schizophrenic paranoia. Karina's as captivating as she was in "Pierrot le Fou" three years earlier, when she was still Godard's lover. RECOMMENDATION: Worth a viewing - for only for inquiring minds that never intend to take on the reading.
TonyPolito Polito
The Magus Quotes
There are no approved quotes yet for this movie.