The Kremlin Letter
(1970)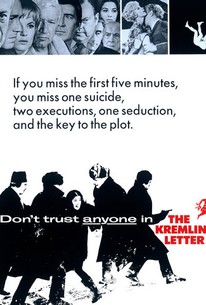 AUDIENCE SCORE
Critic Consensus: No consensus yet.
The Kremlin Letter Videos
The Kremlin Letter Photos
Movie Info
When American agents in Moscow try to recover a stolen letter implicating America in an anti-Red China plot, they discover a hornet's nest of treason, double agents, murder, and betrayal. The plot has as many switchbacks as a Formula One racetrack, and a pad and paper to keep track of the agents and their code names wouldn't hurt. Still, The Kremlin Letter is an interesting espionage movie with some good performances.
Audience Reviews for The Kremlin Letter
Although usually dismissed as a misfire, The Kremlin Letter is a talky, but engaging, thriller with lavish cinematography and a marvelous screenplay, all wrapped up in a nice bow with the hands of unsinkable film veteran John Huston.
Knox Morris
½
In "The Kremlin Letter," KGB Colonel Kosnov(Max von Sydow) has arrested an agent who was selling secrets back to the Americans. To make matters worse, he was in possession of a letter when he committed suicide that was pretty much a declaration of war on China. So, The Highwayman(Dean Jagger) assigns Ward(Richard Boone) to recruit Charles Rome(Patrick O'Neal) into their private little agency. He in turn is tasked with getting the bang back together that includes The Whore(Nigel Green) and Warlock(George Sanders). But The Erector Set(Niall MacGinnis) is unable to go to due to his arthritis, so his daughter B.A.(Barbara Parkins) takes his place as safecracker. And if that does not work out, then she could always try out for a fetish magazine... To be fair, "The Kremlin Letter" is certainly a product of its time, not only in its Cold War intrigue but also in its changing social mores and generation gap, expressed in the underground scenes in both Moscow and New York that include positive portrayals of both gay men and women.(You have not lived until you have seen George Sanders in drag.) What separates this movie from the pack is not only Richard Boone hitting all the right notes and a heck of a kicker but also in its refreshingly cynical attitude towards espionage. The only difference between the Soviets and the Americans here is that the Soviets torture and the American agents perversely resort to blackmailing, pimping and drug dealing. That allows for the movie to deftly subvert expectations with Rome being the closest to a traditional hero on hand.
"Nephew, didn't anyone ever teach you Revenge Is Sweet?"There are some Great Characters To Love & to Hate in this & it's a very Original Spy Movie.I saw it on FMC so it only showed 3 Star Names to it's credit, no mention of Orson Welles or Max Von Sydow.This turned out to be a pretty great Spy Movie.I totally loved Richard Boone as Ward who used the word "Nephew" at the beginning of every sentence..
Marilee Aschwanden
The Kremlin Letter Quotes
There are no approved quotes yet for this movie.
Discussion Forum
Discuss The Kremlin Letter on our Movie forum!