Shockwave
(2005)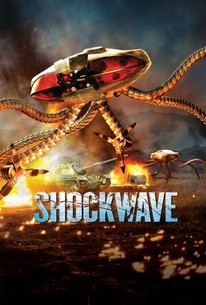 AUDIENCE SCORE
Critic Consensus: No consensus yet.
Movie Info
The wildly prolific cult exploitation director and Roger Corman vet Jim Wynorski (Big Bad Mama 2, Not of This Earth) returns to the thematic territory of his 1986 Chopping Mall with the direct-to-video sci-fi actioner Shockwave (2005). The premise concerns a series of top-grade, covert "Shock Wave" robots. Originally designed as Mars Rovers, these machines - shielded with thick armor and laden with state-of-the-art lasers, weapons and tracking systems - ultimately proved themselves so ubiquitous that the armed forces opted to use them in routine military operations, to root out terrorists when attempting to suppress hostile lands. As the story opens, however, a plane transporting the machines crash lands on an abandoned Pacific island. The robots then go on a rampage, and a group of hotshot Navy SEALS is assigned to bring them down, via cutting edge particle cannons. The men are hindered by one small detail: as time rolls on, the intelligence of the robots builds rapidly, enabling the machines to dismantle all of the guns. As the power of the aggressors builds, the soldiers must find an innovative way to stop the madness, before the robots gain enough force and power to wipe out the entire human race.
Critic Reviews for Shockwave
There are no critic reviews yet for Shockwave. Keep checking Rotten Tomatoes for updates!
Audience Reviews for Shockwave
The one good thing about this movie is that you learn all you need to know in the first minute. The dastardly robot villain, the terrible dialog, sound effects, music, acting, and plot are all rolled out before you even take a bite of your popcorn, and it never gets any better. A surprising number of decent actors have small parts in this one. Not sure how they managed that, but it only makes it even worse seeing them suffer through what they must know is just awful.
Xpocalypse Survival
½
4.5/10. AKA: A.I. Assault. I was not expecting a future sci-fi classic, and didn't get it, but it's not too terrible. There are some quite decent special effects and it did not outstay its welcome. The biggest flaw is some of the acting, not everyone is bad, a handful. The plot is far fetched but not completely unbelievable.
James Higgins
Shockwave Quotes
There are no approved quotes yet for this movie.
Discussion Forum
Discuss Shockwave on our Movie forum!