Halloween Night
(2006)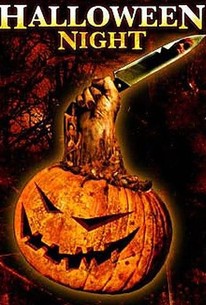 AUDIENCE SCORE
Critic Consensus: No consensus yet.
Movie Info
A psycho escapes from an insane asylum and goes on a killing spree after crashing a Halloween bash in this scary slasher film based on actual events that took place in 1982. Derek Osedach, Rebekah Kochan, Scot Nery, Sean Durrie, Alicia Klein, Erica Roby. Directed by Mark Atkins.
Critic Reviews for Halloween Night
All Critics (1) | Fresh (0) | Rotten (1)
As a "Halloween" wannabe, it's horrible, but as a slasher film on its own merits it's horrible...

Audience Reviews for Halloween Night
½
The made-for-video horror industry has pretty much recycled six basic plots into oblivion by now, but the simply titled "Halloween Night" is just about the worst offender I've seen in a while. This extremely derivative film is a thinly disguised rip-off of John Carpenter's seminal holiday classic, as the title would suggest, but it also brings to mind other classics in the genre such as "Friday the 13th" as well. Now all of that might have worked had the film at least been entertaining, but the direction by Mark Athens is sluggish and the entire picture is full of plot holes and inconsistencies. Chris Vale, the film's homicidal maniac played by Scot Nery, is given a very slight backstory about witnessing the death of his mother in which his father is implicated, but that's never really explained. His make-up is not consistent with that of a burn victim, but that's a minor distraction after a while. The acting is probably the film's greatest detriment, and it ranges from passable to terrible. At least most of the girls are hot and not afraid to get topless which is enough of a diversion from their acting. Many of these people read their lines like they're hearing them for the first time, and clearly there was no time for rehearsals. About the nicest thing I can think to say about it is that the special effects are decent, as most of the murders are appropriately gruesome. At least the film doesn't fail its audience in that department, but the rest of "Halloween Night" is completely forgettable. Movies like this are a dime a dozen, and this one failed to make much of an impression on me.
Timothy Sanders
½
The Asylum delivers yet another low budget horror film that fails to make for a truly engaging and horrifying experience. With Halloween Night, the film is a clichéd, predictable affair that never really takes off. This is a clumsy film with bad acting, and a poor story. The only good aspect of the movie is the kill sequences, which are gory and well done considering the film's low budget. I really wanted to enjoy the film, and I liked the way that the killer killed his victims, but the big problem with the film is that it's a predictable movie that it's been done many times before. Along with that, the cast here just make this a laughable affair. No actor on-screen brings anything to really make this film standout. If you're going into this expecting a great horror film, you'll sadly be disappointed. This could have been an amusing film to watch if the cast ands plot would have been better, but it misses the mark. Halloween Night is ridiculous and there is nothing good here aside from the kills. Don't expect anything memorable, you won't find it here. Halloween Night relies on predictable clichés that just makes for a pointless film going experience. Watch something better if you want a truly memorable horror film. If only there would have been more effort put into this film, then maybe the film would have stood a chance. Halloween Night is a poorly made film that doesn't satisfy even if it's got good kill sequences. Watch a different Slasher film instead of this one; you'll be glad you did. This film fails at really being memorable, fun and entertaining.
One of the worst horror films ever made. Terrible acting. Horrible script. Very cheesy. Bad effects...and the killer is very fake looking. This copied way too much off of "Halloween," but hey, what could I say? It's The Asylum.
Jacob Palacio
Super Reviewer
Halloween Night Quotes
There are no approved quotes yet for this movie.
Discussion Forum
Discuss Halloween Night on our Movie forum!