Don
(2006)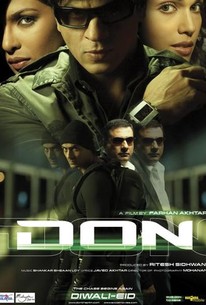 AUDIENCE SCORE
Critic Consensus: No consensus yet.
Movie Info
An Indian narcotics officer concocts an ingenious plan to capture a notorious drug lord, only to discover too little too late just how wrong even the most well-executed plan can go in this Bollywood action thriller from director Farhan Akhtar. As drug trafficking between Asia and Europe rockets to an all-time high, DCP DeSilva vows to bring one of the world's most notorious drug cartels to justice no matter what the cost. Though many believe the powerful operation to be run by the dreaded Singhania, it is actually trusted lieutenant Don who is pulling the strings from behind the scenes. DCP DeSilva knows well that the ruthless and power-mad Don is the true mastermind behind the actions of the cartel, and upon capturing the elusive drug trafficker he sets into motion a complicated plan designed to bring down the elaborately conceived operation once and for all. DeSilva's secret weapon is a man named Vijay. Not only is Vijay the spitting image of Don, but he has studied Don's mannerisms extensively and now possesses the skills needed to infiltrate the group and deceive even the sharp-eyed Singhania. Trouble arises, however, when DeSilva is unexpectedly killed during a raid on the cartel and the only people Vijay can turn to for help are woman who has infiltrated the gang to avenge the death of her brother, and the man who once entrusted Vijay with his son and now owes the frantic undercover cop a sizable favor. But now the ruse has been revealed, and with the police closing in on one side and the vengeful gangsters gaining ground on the other, time is quickly running out for the hunted undercover cop without an identity.
Critic Reviews for Don
All Critics (2) | Top Critics (1) | Fresh (2) | Rotten (0)
Working to keep the home audience interested in a story it knows by heart, Akhtar adds so many additional betrayals and secret identities to an already far-fetched plot that the real world becomes a distant memory, and happily so.
Audience Reviews for Don
What a pity...a highly potential plot, shot in exotic locations, but cheesily done. I hope Hollywood will remake this one...
Ben Huat
½
I liked it more than I thought I would, but the ending creates all sorts of logic flaws and my girl can NOT act.
Deepak Chitnis
½
Fascinating and dynamic movie that centralizes around the world of Don, a crime boss in Malaysia. Ruthless and cunning, he sets out to become the sole power in the world of crime even if it means eliminating both sworn enemies as well as potential threat. Roma vows to seek revenge at the death of her brother and his fiancée. A country skirmish with the police causes Don to become captured; and an innocent look-alike singer Vijay, has been asked to portray him. As he sets out in helping to bring down the infamous Don, he realizes that he cannot trust anyone but Roma. An exciting conclusion with an intriguing twist in the story plot. Great cast- Shahrukh Khan, Ishaa Koppikar, Priyanka Chopra, Arjun Rampal, Boman Irani, Chunky Pandey, Om Puri, and Kareena Kapoor. Worthy!
Don Quotes
There are no approved quotes yet for this movie.
Discussion Forum
Discuss Don on our Movie forum!