Danielson: A Family Movie
(2006)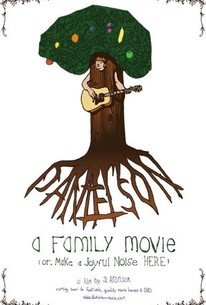 Danielson: A Family Movie Photos
Movie Info
Filmmaker J.L. Aronson offers an intimate portrait of a band in which eccentric innovation and unwavering faith forms an unlikely recipe for indie-rock stardom. The year was 1995, and aspiring musician Daniel Smith needed a project for his senior thesis project at Rutgers University. Upon handing in an album recorded by the Danielson Famile entitled A Prayer for Every Hour, the ambitious student was promptly given an A for his remarkable creative efforts. The youngest sibling in the Smith family was 11 years old, and a new era in family history had been set into motion. Born and bred in the farmlands of New Jersey, Smith and his siblings formed a band that soon took to performing in vintage white nurses' outfits to symbolize the healing power of the "Good Word." Though unfavorably received by the Christian community, the Danielson Famile found an unlikely ally in the form of the independent music community. With an outsider edge that appealed to music critics who were fast beginning to grow tired of the stagnant state of modern music, Smith and his band received widespread recognition thanks to articles in such prolific publications as Rolling Stone and Spin magazines. With little money coming in and his other siblings longing to continue their education and seek out their own paths in life, Danielson Famile frontman Smith does his best to establish himself as a solo act while mentoring a then-unknown singer/songwriter with the curious name of Sufjan Stevens.
Rating:
NR
Genre:
, ,
Directed By:
In Theaters:
On DVD:
Runtime:
Studio:
Critic Reviews for Danielson: A Family Movie
Audience Reviews for Danielson: A Family Movie
Danielson: A Family Movie is an unexpectedly fascinating documentary about The Danielson Famile, a faith-based indie rock group from Clarksboro, New Jersey. Daniel Smith is the charismatic frontman and muse of the band, which is comprised of an ever-changing mixture of his siblings and friends. Daniel would no doubt balk at the flattering description of himself. In his eyes, he's simply a cipher for God's creativity. He describes himself as the kid helping his Dad change a flat tire; he doesn't really get to change the flat, but he feels like he's involved anyway. Funny thing is...I believe him. He's being completely sincere. For me, this is the kicker. I don't have a whole lot of love for Christian Rock. I've found the label applies primarily to disingenuous groups with mediocre talent who exploit a built-in fanbase. Oddly, I think Daniel Smith would agree. He refuses to be pigeonholed so easily. His music has an organic, unpolished brightness about it. It's mildly punky, a little folksy, and most assuredly unique. I'm reminded of Modest Mouse, Daniel Johnston, and The B-52's. The sound grows on you like a warm rash. The band sports nurses costumes, meant to signify the healing power of Christ, that lends them a wacky, unsettling uniformity. Wacky because, like The B-52's with their bouffant hair-do's, the look is intentionally kitschy. Unsettling because I can't help but think of fascism and Christianity. But now I'm projecting. When I hear Daniel Smith speak, I think of Marilyn Manson. I mean this as a compliment. Marilyn Manson tries so hard aesthetically to distance himself from the main-stream that it comes as a shock when you hear him in an interview. He's soft-spoken, gracious, intelligent, poised, and objective. Daniel Smith carries himself with the same mien. He wins you over with his lack of pretension. In short, I'm a fan. I never thought I'd hear myself say it, but there it is. Sometimes I just gotta shut up and listen to the music.
Craig Burgess
½
I love The Danielson Famile and this documentary does a pretty good job of capturing them, tracing their humble beginnings as Daniel Smith's thesis project to cult indie icons. I'm well-enough read on the band that there wasn't really much in here that surprised me, however, it was nice to get the various famile member's perspectives. My only real complaint is that, even though I am a fan of Sufjan Stevens, I felt as though too much time was dedicated to him. Interestingly, for as much time pointed screen time as they give him, there weren't a lot of shots of him actually performing with Danielson. Candid shots, structured interviews, and gratuitous shot framing, yes. But I'd have liked to see more of him actually performing as a Famile member. Also would have liked to see a bit more with Daniel Smith's father, Lenny, who is an awesome songwriter in his own right. One thing this documentary does a great job of highlighting is how bloody NORMAL Daniel Smith appears when he isn't singing. Seriously, he could be an effin' office-worker for the way he both looks and interacts with people. Anyway, little quibbles aside, this is a great look at one of the curious musical acts of America.
Jacob Gehman
½
"I'm so indie, I make Daniel Smith look like John Darnielle." One day I'll buy that T-shirt. Anyway, this is a nice documentary about Smith's musical history. While most people will be drawn to the parallel story of Sufjan Stevens, I think the best part is where Smith discusses the lacking Christian music scene with Steve Albini.
Andy Mitchell
Danielson: A Family Movie Quotes
There are no approved quotes yet for this movie.
Discussion Forum
Discuss Danielson: A Family Movie on our Movie forum!