Pope John Paul II
(2005)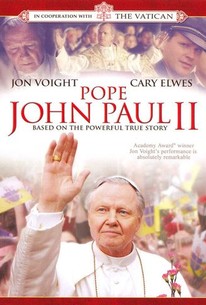 AUDIENCE SCORE
Critic Consensus: No consensus yet.
Movie Info
One of several dramatized tributes to the late pontiff to be telecast in 2005, the two-part CBS biopic Pope John Paul II is a remake of a popular Italian miniseries, and was filmed on location in Italy and Poland. The film begins with the attempted assassination of the pope on May 13, 1981, whereupon the story of the man once known as Karol Wojtyla is unfolded in flashback. The familiar highlights of Pope John Paul II's life and work are vividly realized: his early theatrical aspirations, his staunch resistance of both the Nazis and the Communist party in his native Poland, his meteoritic rise through the church ranks (at 38, he was his country's youngest bishop), and his ultimate ascendance to the Vatican throne in 1978. Also, this is one of the few English-language films to officer a meticulous recreation of the papal election process. Throughout much of the film, the pope's career is firmly linked with that of his countryman, Polish labor leader Lech Walesa; it can be inferred that without the input of both men, Poland would never have freed itself from Communist domination, nor would the Soviet empire have ultimately fallen. Cary Elwes plays John Paul from ages 18 through 50, whereupon Elwes morphs (quite literally, thanks to a brief -- and controversial -- special-effect sequence) into Jon Voight, who takes over as the older pope. Pope John Paul II was first telecast in two parts on December 4 and 7, 2005.
Critic Reviews for Pope John Paul II
There are no critic reviews yet for Pope John Paul II. Keep checking Rotten Tomatoes for updates!
Audience Reviews for Pope John Paul II
Got a little slow and boring at times but all in all a good recreation of the interesting life of the Pope. Jon Voight did an awesome job! Oh and I'm the 22nd person to rate this movie. Awesome.
Mike Tedesco
½
Endless movie, and I ended up knowing a lot more about Pope John Paul II than I cared to. I was getting bored about halfway through. Perhaps Catholics would benefit much more watching the film, but boring is boring. It does have a nice production, the acting is pretty good, otherwise not much else to the film.
James Higgins
½
[size=5][b]Slaughter Hotel[/b][/size] Directed by: Fernando Di Leo [img]http://images.tlavideo.com/images/catalog_gaybase/196476.jpg[/img] This gallio horror movie is remarkable for only two reasons: It stars Klaus Kinski, and really doesn't know if it's a horror movie or lesbian porn. And by lesbian porn, I don't mean two chicks make out, I mean it has two full on scenes of women masturbating. Closeups of their fingers going inside themselves and all, AND chicks making out, and dancing in their underwear, etc. Anyhow, the movie has a neat castle that's a mental institution in the movie, and has this amazingly hot black chick get naked a lot, and a few over-the-top gory scenes. Other then that, it's just silly. Wouldn't scare anybody. Acting is terrible, etc. So, if you want some good lesbian porn from the 70's, I recommend you rent one. If you want a horror movie, I recommend you go rent one. If for some weird reason you want a combination of both, check this out. [size=4][i] 3.0[/i][/size] [size=5][b] Pope John Paul II[/b][/size] Directed by: John Kent Harrison [img]http://images.usatoday.com/life/_photos/2005/11/30/inside1-pope.jpg[/img] I checked out this made-for-TV bio pic because I genuinely wanted to learn more about the late Pontiff. I liked what I knew, but I wanted to know a whole lot more. I figured this might give me an outline from which to collect new information. Regrettably, it didn't really. This was a paint-by-numbers effort that didn't tell anybody who knew anything about him at all, all that much about him. I wasn't hoping for all that much, just something along the lines of "Luther" which was a fairly unremarkable, but decent bio-pic of Martin Luther. Unfortunately, this isn't even that. It did have good performances by both Carey Elwes and John Voight as the younger and older Pope, respectively, and it did flesh out a few things I wasn't totally clear on (I didn't realize quite the extent that growing up on communist occupied Poland affected him), and he's an interesting enough man, and the locations are beautiful enough, that it's certainly watchable. But it never really teaches us much that we don't already know. It tells us what we knew, and confirms what we suspect. Little else is presented. Pope John Paul II was a great man, in my opinion, and while I'm not a Catholic, I've long admired him. However, this movie, while watchable, doesn't do him justice. [size=4][i]5.0 [/i][size=2]Edit: Upon re-reading this entry, I find it quite ironic that this entry includes what amounts to a lesbian porno/horror film in the same entry with a film about the Pope. This was entirely unintentional.[/size] [/size]
Cliff Smith
Pope John Paul II Quotes
There are no approved quotes yet for this movie.
Discussion Forum
Discuss Pope John Paul II on our Movie forum!