Evil
(2006)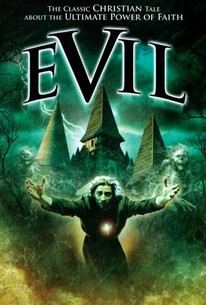 AUDIENCE SCORE
Critic Consensus: No consensus yet.
Movie Info
Confronted by forces of darkness beyond human comprehension, a cynical journalist discovers that only the power of faith can defeat the unspeakable evil that threatens to consume his soul in this adaptation of Nikolai Gogol's terrifying literary classic The Vij.
Rating:
NR
Genre:
, ,
Directed By:
Written By:
In Theaters:
On DVD:
Runtime:
Critic Reviews for Evil
All Critics (2) | Fresh (2) | Rotten (0)
A fun and very creepy zombie comedy that works because it's so damn ridiculous...

Evil doesn't particularly offer anything new except for two things: it has a lot of energy, and it comes from Greece

Audience Reviews for Evil
(***): [img]http://images.rottentomatoes.com/images/user/icons/icon14.gif[/img] A fun and entertaining Greek zombie flick.
TTT C
It's hard to imagine that it took until 2005 before the country of Greece had a zombie film of their own. After the huge success that the original Dawn of the Dead was in Europe, there were plenty of zombie-inspired flicks that popped up shortly after that film's debut (most notably Italy and their graphic zombie films). Writer/director Yorgos Noussias' aptly titled Evil is a nice mix of today's more fast paced zombie films with darkly comedic horror films like Sam Raimi's Evil Dead. It isn't one of the most original zombie film these days, nor does it do anything new or different with the genre. But there is no denying this film's effectiveness. The movie opens up with three construction workers who find an uncharted cave in the area that they are working in. And like any stupid horror film character the three decide to take a look inside, and are then promptly attacked by some unseen creature that has been watching them in the darkness of the cave. Soon after a mysterious disease starts to sweep the city of Athens, turning people into flesh eating zombies. Funny enough the zombie outbreak occurs right after a soccer game, and people assume it's just avid fans rioting because their team lost. Noussias' film, much like its zombies, is very fast paced. We are quickly introduced to the small handful of survivors we are going to follow throughout the film and them bam, zombie outbreak happens! Even though the film moves along quickly, it still focuses a lot of attention on its human characters. So often with zombie films made today we get a lot of irritating or poorly developed characters. But the ones in Evil are nicely developed and are the main focus, instead of them just being food for the zombies to munch on. If you're looking for a film that features zombie carnage, well Evil has that too. And all of it is completely over the top and ridiculous. But that adds a lot of fun to the experience. Horror movies can become repulsive rather quickly when they go too far with their blood and gore scenes, but Evil manages to find a nice balance between marginally gruesome and downright silly. Just watch how easily heads are ripped off in this film, it had me laughing each time the film showed this act. Evil contains an interesting score, that is very fitting at times while at other moments very strange. And I liked how the film utilized split screens at certain points. Overall Evil is one of the stronger zombie movies to be produced in the past decade. Zombies reemerged and became cool again over the past 10 years, but the only places that seem to know how to make a zombie film right aren't American studios. Europe had some of the best zombie films of the 80's, and the trend might continue now.
Bryan Gomez
This movie has a mushy middle, like the zombies in it. It is shot in low grade digital and (I believe) completely handheld. The effects are minimal and very cheesy. And the scenes are very cartoonish. There was a slight charm to the beginning, especially the scene in the stands of the football stadium. But this movie falls short. The middle massacre mash-up was laughably played out which I wasn?t sure that was what it was going for. It was an obvious 28 Days Later afterbirth, but didn?t stay with the tense manner of it, which it probably could have. Overall, it is short but not too sweet. And the saving grace from making this movie a no-go is that it is somewhat wildly unpredictable.
Lee B
Evil Quotes
There are no approved quotes yet for this movie.
Discussion Forum
Discuss Evil on our Movie forum!