Above and Beyond
(2006)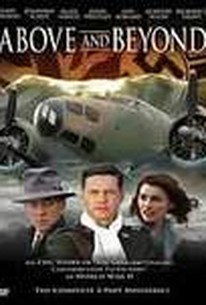 AUDIENCE SCORE
Critic Consensus: No consensus yet.
Movie Info
The World War II set romantic drama Above and Beyond concerns a young man and woman who fall in love, but must consider putting country before self in order to do what is right for the world. Richard E. Grant and Jason Priestley star in this tale of love in the RAF. ~ Perry Seibert, Rovi
Audience Reviews for Above and Beyond
½
150614: Very good film, especially considering the $1.29 it cost me at The Dollar Tree. Beautifully done and Canadian. Some great acting and motivated me to do historical research. Two thumbs up.
John Redshaw
½
ABOVE AND BEYOND O.K. WWII drama. Begins in 1940 at which time Newfoundland was an independent Dominion ruled financially from England because of the Depression. Plot centers on the coming of age experiences of a young Newfoundland woman living in Montreal, Canada, who becomes involved with the Allied war effort through her job. I found it to be interesting as far as it went regarding the early period of the secret pilot training program out of Gander Airport under Captain Dan Bennett. However, there was far, far and away too much emphasis placed upon trite romances of colorful locals whilst not enough portrayal as to the courage, heroism, and triumph of the pilots who risked their lives to fly the North Atlantic over and over again to deliver critically needed fighter aircraft across to England from the U.S. thereby staving off Nazi offensives into Britain-and that is the real story here, isn't it? Cockpit scenes were amazing. Crucial Bismarck battleship connection evidenced. Very good cast performances especially Richard E. Grant as Captain Dan Bennett and Joss Ackland as Winston Churchill. I think that it was a mistake to use the same title for this film as a 1952 movie about Paul Tibbets and the Enola Gay atomic bomb mission. They are both WWII dramas about important situations in history that deserve their own individual recognition.
Ann Lorraine
I am told this was made for TV. A Mini Series. I saw the previews on another DVD and it looked very interesting. What I saw at the time, I really don't know as the movie ended up being somewhat disappointing to me. This is based on actual events of England Ferry Planes from the US that were needed for the war. It involved actually flying the planes from the US to England vice shipping them across the Atlantic on Ships which had a good chance of being sunk by Submarines. It was enjoyable in the fact that it opened a piece of history from WWII that I knew nothing about. My hats off to the pilots and crews that made this possible. Jose Ackland played about as close to Winston Churchill that one can do. For that I give him 5 stars. The Movie itself was drug out at times, Acting was fair, it was what it was, made for TV, And that?s where I would wait to see it. 2 Stars is what I would give this one nothing more.
Bruce Bruce
Super Reviewer
Above and Beyond Quotes
There are no approved quotes yet for this movie.
Discussion Forum
Discuss Above and Beyond on our Movie forum!