Cinderella
(2006)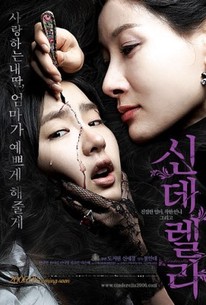 AUDIENCE SCORE
Critic Consensus: No consensus yet.
Movie Info
The daughter of successful female plastic surgeon, the teenage Hyun-soo (Se-kyeong Shin) is the envy of her art school friends, who all want the perfect face. But after her friends go under the knife and start dying mysterious deaths, Hyun-soo must investigate her mother's darkest secrets. This suspenseful -- and gruesome -- horror film is South Korean director Man-dae Bong's second feature.
Critic Reviews for Cinderella
Audience Reviews for Cinderella
½
This was okay. Not boring though. A bit scary. Nothing like the disney Cinderalla. Some scenes were hard to understand as it was way too dark. I did liked the story. But sometimes it was confusing. Not willing to watch it again though.
Dead Angel
Super Reviewer
½
There are some decent ideas being thrown around in here, but by the end they all feel like a gimmick and Cinderella amounts to little more than average genre fare. The confrontation of Korea's obsession with plastic surgery is always interesting, but Time did it far better, and for this movie it just seems like a coat rack to hang some overbaked atmosphere and jump scares on. Good acting and occasional aesthetic surprises all seem counterbalanced by the fact that the movie is so fucking dark, you can never actually see what's going on. Most likely a budgetary constraint, Cinderella's already barely-coherent plot is further crippled by this lousy choice. Definitely skippable, unless Asian horror is your comfort food (as it is mine).
Drew Smith
Super Reviewer
This is the creepy version of Cinderalla. Very disturbing.
Cinderella Quotes
There are no approved quotes yet for this movie.