Slingshot
(2005)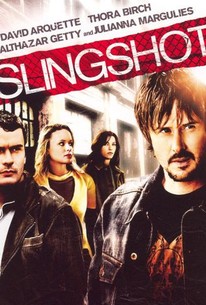 AUDIENCE SCORE
Critic Consensus: No consensus yet.
Movie Info
Taylor (Balthazar Getty) and Ashley (David Arquette) have been best friends since they were boys. They've grown older and stuck together, making a meager living, drifting across the country running low-level cons. They end up in Fairfield, CT, where Ashley thinks they can scam rich lonely housewives. At a children's hockey game, Taylor chats up Karen (Julianna Margulies), who seems to fit their victim profile to a T. She's depressed and unsatisfied in her second marriage. Her teenage daughter from her first marriage, April (Thora Birch), is away at college, and her neglectful, philandering husband is rarely around. Ashley wants Taylor to spend some time with Karen, gain her trust, and case her house for valuables, but the situation gets complicated when Taylor begins to develop genuine feelings for her. Karen soon realizes that Taylor does not offer the solution she seeks to her problems, and ends their affair. Taylor pines for her until he accidentally runs into April. As Taylor and April begin to develop a relationship, the unstable Ashley grows distraught over the state of his partnership with Taylor. Slingshot was written by director Jay Alaimo, producing partner Matt Fiorello, and Matthew Martin (who also has story credit). The film had its world premiere at the 2005 Tribeca Film Festival.
Rating:
R
Genre:
, ,
Directed By:
Written By:
In Theaters:
On DVD:
Runtime:
Studio:
Bold Films
Critic Reviews for Slingshot
There are no critic reviews yet for Slingshot. Keep checking Rotten Tomatoes for updates!
Audience Reviews for Slingshot
retarded. then again....i can't stand david arquette. but the whole execution of this film fails on just about every level. the highlight being an interaction between arquette and a 11 year old hockey kid.
JJ Last
So many movies, so little time..... [b]Perfect Storm (2000) - 4.3/10[/b] Director - Wolfgang Petersen Starring - George Clooney, Mark Wahlberg, Diane Lane, John C. Reilly, Karen Allen, Mary Elizabeth Mastrantonio, William Fichtner, John Hawkes, Allen Payne. Story about a group of fisherman caught in the "storm of the century". Nice special effects, but the story is way to formulaic. [b]Slingshot (2005) - 2.4/10[/b] Director - Jay Alaimo Starring - David Arquette, Thora Birch, Balthazar Getty, Julianna Marguiles, Svetlana Metkina. Preposterous story about conmen. Below average indie fare. [b]Because I Said So (2007) - 2.4/10[/b] Director - Michael Lehmann Starring - Diane Keaton, Mandy Moore, Lauren Graham, Tom Everett Scorr, Gabriel Macht, Piper Perabo. Possibly 2007's worst chick flick. [b]Fay Grim (2007) - 6.0/10[/b] Director - Hal Hartley Starring - Parker Posey, Jeff Goldblum, James Urbaniak, Saffron Burrows, Liam Aiken. Decent yet forgettable thriller. [b]Bee Movie (2007) - 3.1/10[/b] Director - Stephen Hickner. Starring - Jerry Seinfeld Seinfled's unsuccessful and unfunny foray into animated film.
Jennifer Allison
½
The main issue with this film is unlikable characters. If you don't care one way or another about anyon e in the movie, it lowers your interest level. It's not badly made, but it just is not very involving.
James Higgins
Slingshot Quotes
There are no approved quotes yet for this movie.