The Thirst
(2007)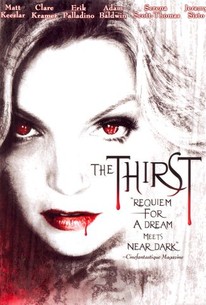 AUDIENCE SCORE
Critic Consensus: No consensus yet.
Movie Info
In this straight-to-video horror effort, a clan of young vampires find themselves not only craving, but addicted to bloodsucking.
Audience Reviews for The Thirst
So-so vampire film about a young woman who ends up not dying from cancer but instead gets bitten by a vamp much to the initial suprise of her boyfriend but he eventually gives in and gets turned into a vampire to and lives with a vampy family led by Jeremy Sisto who can't decide whether he wants to speak in an eastern European, English or American accent. One point he even sounds Irish! To be fair thats the only really shit thing about the film as the director uses some interesting shots and styles, the soundtrack is pretty cool and theres some gore to. Basically the girl and her boyfriend become addicted to blood and don't want to be but are told its forbidden and all that stuff. It wasn't as bleak as i thought it would be actually. I haven't worked out if thats a good thing or not. Not the best and most original vampire movie but not the worst either.
Ironically enough I was either going to watch THIS movie or re-watch Severance (don't ask) and I thought this movie was a SHITLOAD funnier than Severance. Here's the thing, Severance is SUPPOSED to make you laugh and its attempts are doing so are amateurish at best, so the movie isn't really a very effective comedy (nor is it a very effective horror). This movie, on the other hand, isn't supposed to be a comedy (at least I don't think...) but it's absolutely fucking HILARIOUS. TMC on Demand is on quite a role with the awesomely terrible movies. Exit Speed and now this. This movie is just awesome, AWESOME I tell you. It's so horribly acted, so horribly shot, and the gore is so cheesy and corny, it's just something else to be completely honest. This movie's goodness relies completely on how bad it is. I really loved every minute of this goddamn movie. The movie NEVER takes itself too seriously, so that helps. The characters are so goofy and so absurd. Like Jeremy Sisto's character, I'm not exactly SURE what he was supposed to be or where he was supposed to be from but his accent seriously sounded like a mix of a southern man, man from England and a Russian dude. I don't know what the FUCK he was supposed to be, but it really helped with the comedy of this movie, as Jeremy Sisto was AWFUL in this goddamn movie, he clearly didn't give a shit. His accent also leads to the funniest line in the entire movie when he yells 'Now is not the time for fucking!' at these two crazy vampire chicks. I can't really do the line justice, because Jeremy's accent completely makes the line absolutely HILARIOUS. I laughed my ass off. AH and the aforementioned crazy chicks. These females were always fucking somebody (or trying to...hence Jeremy's GREAT line), so anyway these chicks were so absurd. They were always walking around like they were trying to scare someone. I mentioned that they looked like they were dancers from Michael Jackson's thriller music video. These 2 females greatly entertained me. And then there's the main character, he was such a fucking dork. I'm a fan of Adam Baldwin, but even HIS character wasn't the best part of the movie, the movie's just so absurd that I just laughed my ass off at all of it. And the gore, christ the gore and blood is so BAD in this movie. It looks so cheap. But that's what makes it so awesome, so it works. And THAT'S why I thought this movie was funnier than Severance. I ABSOLUTELY loved every moment I was watching this movie. But I can't help but stress that this movie is AWFUL, so don't go in expecting the next great horror movie, because you ain't getting it here. I had no problem with this movie, but it's not a movie I'd ever watch again because the movie's badness wouldn't be as charming the second time around.
Jesse Ortega
Super Reviewer
I'm torn between two and a half stars and three on this one, so I'm giving it 3 out of fairness. it's not the worst film I ever saw, but it certainly does fall short. On the plus side, I liked Clare Kramer's Lisa, an interesting character, (and liked her as an actress on Buffy also). I'm not sure who plays her boyfriend, but he is also fine. The story between them and Lisa's death and return is quite good. On the downside - the gore. This is a really quite gruesome film. I don't mind horror, but I really don't like blood and gore scenes made to be as disgusting as possible. Also a big downside - the vampire "family" - like a bunch of savages, and played as convincingly. Did not like or buy any of them, not even remotely convincing. I could not honestly recommend it, but if it interests you, give it a go, you may enjoy it. It is not all bad, but the acting from the majority of the cast leaves a lot to be desired and it is not very nicely filmed either.
Nicki Marie
Super Reviewer
The Thirst Quotes
There are no approved quotes yet for this movie.
Discussion Forum
Discuss The Thirst on our Movie forum!