Something Like Happiness
(2005)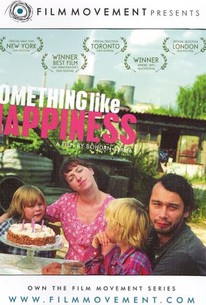 Movie Info
A trio of friends residing in an urban Czech housing project finds that happiness can come from the place where you least expect it in this quirky and heartfelt drama from Wild Bees director Bohdan Sláma. As the shadow of the country's largest chemical factory looms large over their bleak industrial suburb, Monika (Tatiana Vilhelmová), Tonik (Pavel Liska), and Dasha (Anna Geislerová) hold out hope for a brighter future in another place. While supermarket employee Monika's dreams are built around the hope that she will someday venture to America to be with her boyfriend, George, Tonik secretly pines for Monika, and single mother Dasha finds comfort in the arms of a married man while slowly drifting from reality. As Tonik flees his conservative parents to live on the farm of his eccentric aunt, Dasha's grip on reality finally slips -- leaving her two young children in the care of Tonik and Monika. As things begin to look up for the willing but inexperienced new parents, a lifetime of happiness is finally within their reach.
Critic Reviews for Something Like Happiness
Audience Reviews for Something Like Happiness
A great film, and a good example of the Czech mindset in dramatic films. No happy ending, in fact no ending at all, which allows the audience to imagine whatever they want to. Fans of this film should also watch The Wild Bees, an earlier effort by the same director. Many of the same actors were used in both films as well.
Kyle Johnson
This movie makes me want to drink vodka and sing sad songs. Good character study... Not much on plot.
Amanda Ray
Really a beautiful film... the characters are accessible and the story is moving. My first Czech film and it made me want to see more!
Jessica Mutascio
Something Like Happiness Quotes
There are no approved quotes yet for this movie.
Discussion Forum
Discuss Something Like Happiness on our Movie forum!