The Tomb
(2006)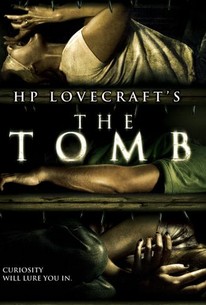 AUDIENCE SCORE
Critic Consensus: No consensus yet.
Movie Info
Genre specialist Ulli Lommell draws inspiration from the master of cosmic horror for this frightener concerning a group of people held prisoner by a sadistic warden known only as The Puppetmaster. Drawn in by curiosity, the unfortunate souls who fall into the Puppetmaster's diabolical trap of perpetual darkness. The fate of each held in the merciless grip of a maniacal madman, the Puppetmaster's victims awaken with agonizing wounds of varying severity before being tormented by an unseen villain who insists that only one of the group will make it through the ordeal alive.
Critic Reviews for The Tomb
There are no critic reviews yet for The Tomb. Keep checking Rotten Tomatoes for updates!
Audience Reviews for The Tomb
Loosely, poorly, based on a Lovecraft short story, you'll be happier and waste much less time by reading it instead.
John Wagner
Just read this instead: http://www.hplovecraft.com/writings/texts/fiction/t.asp
vieras esine
Super Reviewer
Have you ever seen a movie that made you want to fill your ears with super glue and gouge your eyes out with an ice pick? If so, and you are in fact deaf and blind, I would definitely recommend strolling down to your local Blockbuster and picking up a movie entitled "The Tomb," or "HP Lovecraft's The Tomb" to be more precise. "The Tomb" begins in a large warehouse where an unknown villain has left a collection of victims in varying states of injury to piece together his mysterious identity. This evil Ring Leader relays messages to the two main characters; a pretty, talentless blonde and an overweight bald dude reminiscent of 'Kyle Gas' through tape and video recordings. He goes by the alias "Puppetmaster" and watches his victims struggle via closed circuit surveillance. Sound familiar? Oh yeah, and there's a really creepy animatronic doll, although it just seems to be one of an endless amount of props set around the warehouse, with no purpose other than to distract you from the unbelievably bad acting and paper mache gore, and to help stretch a 30 minute "Saw" rip off into a full length feature. In case you're not too keen on subtle sarcasm, "The Tomb" is one of the worst movies I have ever seen, and that's saying a lot since I've seen every film ever made by Wes Craven. However, despite this movie being a near perfect representation of the worst of the worst in B horror flicks, notice that I have not said that it is the worst I have ever seen, and that's because this movie does break away from the "Saw" path when the heroine escapes the warehouse and is given a car, a buttload of cash, and a manuscript. If you think that's a pretty surprising twist, wait 'til you find out that the maniac tracks down his only surviving victim to give her an ultimatum: Have sex with me or I take the goods back. Kinda makes you wonder what would have happened had the 'Kyle Gas' character survived... I really have no problem giving this movie a 4.0/10 due to it's slow pace and overall amateur feeling, however one should keep in mind I would have rated it a 2.0 had it not been for the refreshingly original ending.
Kelley Taylor
The Tomb Quotes
There are no approved quotes yet for this movie.
Discussion Forum
Discuss The Tomb on our Movie forum!