Urchin
(2007)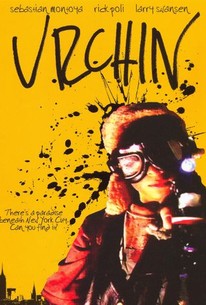 AUDIENCE SCORE
Critic Consensus: No consensus yet.
Movie Info
A young boy living in a Manhattan tunnel town known as Scum City fights to save an old man from the center of the Earth and a young girl in need of protection in first time feature filmmaker John Harlacher's hallucinatory sci-fi fantasy. When a mysterious stranger known only as the Old Man arrives in Scum City on a quest to locate five nobles who became lost on the surface, his tales of a subterranean paradise are scoffed at by the destitute masses. Those who believed, however, were allowed to aid the old man on his mission and smoke a mythical blue crystal ball known as the Blessing that instills one with the clarity needed to carry out exceptional tasks. At the same time, an abused child known as The Kid escapes from a city shelter and the Old Man's former bodyguard goes on a murderous rampage in an effort to obtain a valuable map from the man he was once sworn to protect. With little time left to lose before Scum City is lost forever, the resourceful Kid will attempt to protect a young child named Julia, fend off the killer bodyguard known as Goliath, and obtain the map that could lead him to paradise and a life of eternal bliss.
Critic Reviews for Urchin
There are no critic reviews yet for Urchin. Keep checking Rotten Tomatoes for updates!
Audience Reviews for Urchin
½
Fascinating indie flick. Sci-fi? Fantasy? Drama? Kind of hard to say. Low budget, shot mostly beneath the streets of NYC. Will you like it? That is kind of hard to say, as well.
Paul Cardullo
½
A strange and surprisingly gripping fantasy set in the dark corners of NYC. There is real brilliance in this film's bizarre mix of pathos and parody.
David Duncan
Urchin Quotes
There are no approved quotes yet for this movie.
Discussion Forum
Discuss Urchin on our Movie forum!