Kerd ma lui (Born to Fight)
(2004)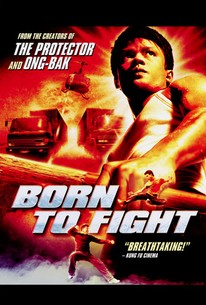 AUDIENCE SCORE
Critic Consensus: No consensus yet.
Movie Info
From the filmmakers behind Ong Bak and The Protector comes the landmark Thai action film that starts with a bang and never lets up. A remote village deep in Thailand has been overtaken by terrorists and threatened with nuclear annihilation. Just when it seems that all hope has been lost, an elite undercover operative assembles a powerful fighting force in hopes that the team can disarm the terrorists and save their nation before it's too late. ~ Jason Buchanan, Rovi
Critic Reviews for Kerd ma lui (Born to Fight)
All Critics (3) | Fresh (1) | Rotten (2)
repeats the more irksome flaws of Ong-Bak, offering a naive brand of nationalism somewhere on the border between the annoyingly cloying, the unintentionally hilarious and the downright xenophobic.
Born to Fight exists solely for the action, and there's no denying that the flick delivers it. And how.
dispensable characters engaged in 90 minutes of video game action
Audience Reviews for Kerd ma lui (Born to Fight)
A superb showcase of bloody John Woo inspired gun-play, extremely cool fight choreography and some truly death-defying stunt-work. The plot is far from original about a terrorist group with a nuclear bomb who hold an impoverished Thai village hostage until the Thai national anthem playing over the radio whips up the locals into a violent fight-back led by a group of athletes and a cop who were on a charity mission to send aid to the villagers. It's a 90 minute movie with almost 70 of those minutes being pure action, even during the end credits we are shown on-set footage of the stunt workers in action reminiscent of a Jackie Chan flick. It's brutal and hard-hitting entertainment - I defy anyone to say they were bored whilst watching this!
Those crazy thai stuntmen are trying to kill themselves once more in this cheesy but fun action flick. The story is absurd even for MA flicks standards, and Dan Chupong is even more limited as an actor than Tony Jaa. But once the action begins, oh boy does it begins, people getting trown from moving trucks, bikes, crashing against cars, trowing themselves to burning wood-houses, kids fighting, elderly fighting, a guy with one leg kicking ass! This might not be Ong Bak, but it's still a damn fun ride.
Tsubaki Sanjuro
Super Reviewer
½
Merely okay. Some great stunts at the beginning, but bogs down kind of quickly.
Kerd ma lui (Born to Fight) Quotes
There are no approved quotes yet for this movie.