Das Fräulein (Fraulein)
(2008)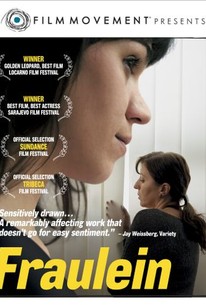 Das Fräulein (Fraulein) Photos
Movie Info
Writer/director Andrea Staka's Das Fräulein paints an exceptionally sensitive, multilayered, and richly textured portrait of a blossoming friendship between two adult women. Mirjana Karanovic is Ruza, a Slavic émigré in her fifties, who years ago transplanted herself from her native Serbia to Zurich, Switzerland. Quiet, introverted, and stoic, she runs a canteen business in the city and trusts absolutely no one, building her life exclusively around income. She and her Croatian associate, Mila (Ljubica Jovic), are confronted with the sudden arrival of Ana (Marija Skaricic), a much younger Bosnian drifter, who enchants Ruza with her fresh spontaneity and zest for life, but still draws some coldness from the Serbian woman. Despite a shared ethnic background, Ruza initially insists on communicating with Ana in German and scarcely acknowledges their common cultural identity. Nonetheless, in time, barriers begin to recede, and a tenuous, delicate bond of friendship forms between the two women. Staka uses the bulk of the drama to explore this relationship in all of its nuances and complexities, conveying the women's inner emotional landscapes with an intelligent use of cinematic language and visual flourishes. Instead of simply using Zurich as a backdrop, Staka employs the city -- both cosmopolitan and yet somewhat distancing -- as one of the story's central characters.
News & Interviews for Das Fräulein (Fraulein)
Critic Reviews for Das Fräulein (Fraulein)
Audience Reviews for Das Fräulein (Fraulein)
½
Touching moments,fierce reality but what struck me most is the short amount of time and the debut whistle.While it's certainly not a groundbreaking film,it's basically a great introduction to one's ideas on film-making and a fabulous start for Staka.Karanovic amidst the top 5 actresses of 2006.
Dimitris Springer
Super Reviewer
In a Zurich restaurant, Ana(Marija Skaricic), a new employee, is warned against throwing a surprise party for her boss Ruza(Mirjana Karanovic), who is old enough to be her mother. She goes ahead anyway. What separates "Fraulein" from every other touchy-feely intergenerational friendship story are events that are not shown in the movie. All of the major characters are from Bosnia but have all had different experiences acclimating themselves to their new home. Ruza and Mila(Ljubica Jovic) left long before the recent genocide to make better lives for themselves abroad. No nonsense and lonely, Ruza is so used to living in Switzerland, that she uses German when speaking to her fellow Bosnians.(Thanks for pointing that out by the way.) Now that it is safe to return home, Mila and her husband(Zdenko Jelcic) have one eye on returning to their homeland and are saving up to make repairs on their house. Into this mix, enters Ana who survived the Siege of Sarajevo, as many of her friends and family did not, only to badly require a bone marrow transplant in the present.
Das Fräulein (Fraulein) Quotes
There are no approved quotes yet for this movie.