Michael Moore Hates America
(2004)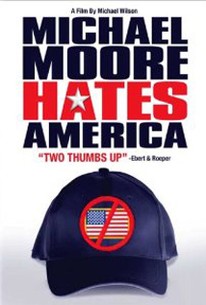 Michael Moore Hates America Photos
Movie Info
From Michael Moore's hometown of Flint, MI, to the movie-making capital of the United States, director Mike Wilson's inflammatory documentary travels across the country to hold the controversial Sicko director's allegedly questionable tactics up to the light for closer examination. Wilson is a filmmaker who wants viewers to question what they see and hear in the media, and he's willing to travel thousands of miles in order to highlight why you too should remain skeptical about Moore's motivations as a filmmaker. The result is a meditation on the American dream, and the manner in which diligence and determination can eventually pay off for the folks who aren't willing to let their dreams fade. Additionally, by speaking with such well-known media figures as Penn Jilette and John Stossel as well as a host of highly respected scholars, Wilson highlights how Moore manipulates interviews and statistics to serve his own personal agenda.
Rating:
R
Genre:
, , , ,
Directed By:
Written By:
In Theaters:
On DVD:
Runtime:
Watch it now
Cast
Critic Reviews for Michael Moore Hates America
All Critics (8) | Top Critics (4) | Fresh (6) | Rotten (2) | DVD (2)
Far more jocular, good-natured and thoughtful than Moore partisans might expect.

It's kind of a sweet movie in it's own way it's not really angry about anything.

Ebert & Roeper
Top Critic
Now despite that mean-spirited and unfair title, this is an honest attempt by one young filmmaker to examine Moore's controversial methods and to question his politics.

Ebert & Roeper
Top Critic
Wilson makes it clear that he doesn't share Moore's political beliefs, but the film isn't about ideology as much as accountability. The theme is: How does he get away with it?
Minneapolis Star Tribune
Top Critic

Audience Reviews for Michael Moore Hates America
What I find laughable is that Dove Canyon is said to be south of L.A. It is Orange County, and they area where all the homes look the same, like "dorms for adults." And the patronized show of "look they have black people there" is irresponsible.
Jay Dee
You know, when you make a documentary exposing someone; you're suppost to expose them, not dedicate 80% of the movie to how you made it
Lee Augustus
I thought this would be right winged angry bullcrap that I would be turing off after 10 minutes, but it turned out to be pretty thoughtful. The film maker is pretty amatuer, but he does a decent job. I think MM is kinda a douche for not showing his face to defend his tactics. What is he so afraid of? That the guy might be right? Hmm....
Curtis Lilly
Super Reviewer
Discussion Forum
Discuss Michael Moore Hates America on our Movie forum!
News & Features