Dear Pillow
(2004)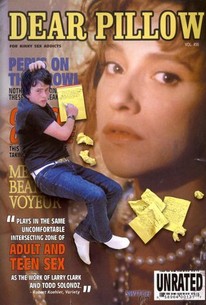 Movie Info
An emo grocery bagger living with his divorced dad in a low-income apartment complex is gradually drawn into the bizarre world of pornographic fiction in this tale of teenage drama from first-time feature filmmaker Bryan Poyser. Seventeen year-old Wes Slack (Rusty Kelly) was only looking to get laid when he discovered that shady neighbor Dusty Meyer (Gary Chason) is an ex-porn filmmaker who currently makes a living writing for Dear Pillow magazine - a prurient rag featuring sexually charged letters submitted by readers. Fired from his dead-end job and frustrated by his inability to make any real friends, Wes decides to try his own hand at writing due to the fact that he has direct access to his neighbor's most intimate fantasies. Lusty property manager Lorna (Viviane Vives) has a habit of indulging in phone sex from her nearby apartment, and lately Wes has been listening in on every word thanks to the assistance of a powerful police scanner. As Wes begins transcribing Lorna's illicit telephone conversations for submission to Dear Pillow, however, Dusty discovers the true source of his pupil's inspiration and secretly hatches a plan of his own. Now, as harmless fantasy begins to take dangerous root in reality, Wes fast begins to suspect that he has gotten in over his head.
Rating:
NR
Genre:
,
Directed By:
Written By:
In Theaters:
On DVD:
Runtime:
Critic Reviews for Dear Pillow
Audience Reviews for Dear Pillow
7.5/10. Cut from the mold of Todd Solondz and oddball relationship dramas like L.I.E., Dear Pillow is an incredibly startling debut feature from self-proclaimed porn junkie Bryan Poyser.
Lee Mayo
This one was interesting, I'll give it that. It's the story of a boy on the verge of 18 who becomes drinking buddies with a gay writer, Dusty, who writes for the porn magazine "Dear Pillow". Dusty takes Wes under his wing to teach him what makes for good porn. And we go from there. This is a very explicit movie, not in terms of what we actually see, but what is talked about, including bondage, phone sex, and other various predilictions. Watching this with "Pleasureland", a short film included as one of the extras and in my opinion superior to the feature, ultimately I think both these movies are about the line between sexual fantasy and sexual reality and how far apart they really are. Beyond that, well, I couldn't say if there is any more beyond that. In the end, it's a well-shot, well-made indy film. Besides Viviane Vives as the landlady, I don't know that I cared much for the characters. Lots of whining and pretention; in other words, indy film characters. If your sensibilities aren't easily offended, it's still definitely worth a look.
J Dean
Dear Pillow Quotes
There are no approved quotes yet for this movie.