The Rape of Europa
(2007)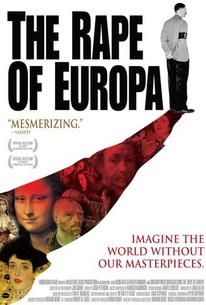 The Rape of Europa Photos
Movie Info
"The Rape of Europa" is a documentary about Adolf Hitler, Hermann Göring and the Nazi's large-scale theft of European art--and the Allies effort to preserve and return it. In a journey through seven countries, the chronicle takes the audience into the violent whirlwind of fanaticism, greed, and warfare that threatened to wipe out the artistic heritage of Europe. For twelve long years, the Nazis looted and destroyed art on a scale unprecedented in history. But young art professionals, as well as ordinary heroes, from truck drivers to department store clerks, fought back with an extraordinary effort to safeguard, rescue and return the millions of lost, hidden and stolen treasures.
News & Interviews for The Rape of Europa
Critic Reviews for The Rape of Europa
Audience Reviews for The Rape of Europa
Very informative documentary about the theft of art by Nazis and the real Monuments Men. (And it will fill in some of the information gaps in Clooney's Monuments Men film.) Highly recommended.
Christian C
Super Reviewer
½
"The Rape of Europa" is a chillingly effective documentary that details the Nazi looting of art treasures across Europe during World War II. The film does a very good job with the help of rare footage in showing the Holocaust from another angle as the Nazis tried to rewrite history by erasing whole peoples and cultures before trying to make over Europe in their own image with their brand of evil ideology. However, playing up the whole failed artist angle is a misguided choice since Hitler was such a malignant person, he would see menace behind every decision, right or wrong. Anyway, the Nazis were less interested in art, than in anything of value which was not nailed down. By contrast, there were the unsung heroes who hid the masterpieces and the Monument Men who helped the Allies preserve as much of old Europe as possible while liberating countries. While all of this is fascinating, what the documentary could have used is more focus on the present day recovery efforts. Most art works were recovered but a lot are still missing, presumed lost forever. And even with the found art, there are complex questions concerning true ownership.
Fascinating look at the Nazi's treatment of art during the WW2 period.
The Rape of Europa Quotes
There are no approved quotes yet for this movie.