Border Café
(2005)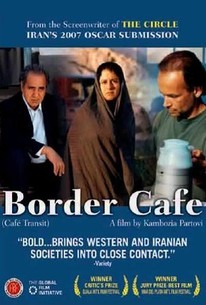 AUDIENCE SCORE
Critic Consensus: No consensus yet.
Movie Info
An independently minded Iranian widow and mother flouts tradition by reopening her late husband's Europe/Asia border café in this socially oriented drama from director Kambozia Partovi. In the wake of her husband's death, Reyhan (Fereshteh Sadre Orafaei) longs to reopen her late spouse's café despite rigid social standards that explicitly discourage her from doing so. Isolated from her friends and neighbors for her headstrong efforts to get the business back on its feet, Reyhan also faces pressure from her conservative brother-in-law, Nasser (Parviz Parastoei) -- who longs to take Reyhan as his second wife, as permitted by custom. Despite Nasser's vengeful efforts to break Reyhan's spirit and put her out of business, Reyhan's culinary skills soon begin drawing a healthy clientele that includes kindly Greek trucker Zakariyo (Nikolas Padapopoulos), whose relationship with the determined restaurateur may provide an exit from her current crisis. ~ Jason Buchanan, Rovi
Rating:
NR
Genre:
,
Directed By:
In Theaters:
On DVD:
Runtime:
Critic Reviews for Border Café
There are no critic reviews yet for Border Café. Keep checking Rotten Tomatoes for updates!
Audience Reviews for Border Café
A fascinating look behind the veil of Iranian society. A woman, Reyhan (Fereshteh Sadre Orafaiy), left a widow by the death of her husband, finds herself in opposition to the local traditions. But defy them she does to the eternal frustration and irritation of her brother-in-law, Nasser (Parviz Parastui). The code of honor by which these people live seems to serve only to keep women subservient to the men and is fueled by a seemingly irrational fear. The story itself is frustrating to this western viewer, and one tends to naturally empathize with the woman, who wraps herself in a quiet dignity in defiance of her family and the community in order to make her own way in the world. One slightly confusing aspect of the filmmaker's choice, is to tell the tale from the point of view of two people who were greatly affected by Reyhan's generosity of spirit, yet the main tale was a direct portrayal. It was not clear whether the main sequences were meant to be flashbacks. But altogether a good solid piece of work from a part of the world that remains largely hidden to western eyes.
Mark Abell
Super Reviewer
I don't know if I like Middle Eastern movies so much because they are actually good movies or just because they give me a glimpse of such an alien world. Every time I see a movie from Iran, Iraq, Jordan, Turkey, etc., it's like I have been thrown back in time a century at least. It's not just the rudimentary infrastructure or the lack of technology or the inexistence of the comforts of our modern societies what really impresses me; it is more importantly the prevalence of ancient customs in 21st century. I know I might sound very patronizing and prejudiced, but all this laws and rules regarding male honor, women rights, and predominance of the religion over every aspect of life are just so foreign to me that I can't avoid feeling fascinated but overwhelmed at the same time. It is nice to imagine how your life could have been if you were born in such a different culture. And even if I seem patronizing I can't help to reassure myself that, even though our countries and cultures have many flaws, I am really lucky to have been born in my country. However, this movie (and others like this one) also show me that no matter how different we might be, the everyday hopes, feelings and dreams are almost the same for every human been.
monica florez
Border Café Quotes
There are no approved quotes yet for this movie.