Blood Car
(2007)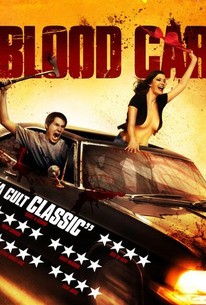 Movie Info
Alex Orr's dark comedy Blood Car stars Mike Brune as Archie Andrews, a mild-mannered elementary teacher attempting to beat the high cost of gasoline (forty bucks a gallon) by creating a car that runs on something other than traditional petrol. He makes large purchases of wheatgrass from a young store clerk (Anna Chlumsky) who has a crush on the teacher. However, when he discovers that his new invention runs best on human blood, Archie suddenly becomes involved with a woman who does not share his or the store-clerks environmental beliefs. ~ Perry Seibert, Rovi
News & Interviews for Blood Car
Critic Reviews for Blood Car
Audience Reviews for Blood Car
½
This is a decent comedy horror that has a unique premise, but could have been done better. The idea of the film is quite good, and the creative aspect is sure to delight horror fans looking for an amusing, mindless film to watch. However, I felt that Blood Car could have benefitted from a few rewrites as the concept is very good, but it does fall short of what the film could have been. The problem with the film is that it tries to rush things while trying to grab your attention. If this would have been a slightly longer feature, with a bit more depth to its sheer ridiculous plot, then Blood Car would really have been a great horror comedy. However it does fall short. I'm not saying it's a bad film, but it's a film that needed some improvements. Despite its imperfections, this is somewhat enjoyable for what it tries to accomplish, and viewers looking for a fun, entertaining low budget B movie, will most likely enjoy this low budget affair. Blood Car could have been better, but for what it is, it's a decent film worth seeing if you love ridiculous horror films. For the most part, Blood Car works, but there are better B movies out there. I really liked the concept; I simply wished that the filmmakers would have made the film a bit longer, in order for the story to have a nice flow. As it is, it's a rushed film, one that doesn't reach its full potential and it's a shame because Blood Car could really have stood out. This is a decent film, but there is nothing remarkable about this B movie, but it's worth checking out if you have nothing else better to watch.
½
Wonderful idea but after an hour it becomes tiresome and trite. Also, could've done without watching children being shot on screen. Bad form I say!
A.D. Villarreal
Super Reviewer
Not what I thought it would be, but actually better. A thoughtful yet crude satire on social status and our energy and gas concerns. Yes, some gore to be certain, but it's a comedy foremost with a disarming sense of humor.
Blood Car Quotes
There are no approved quotes yet for this movie.