Itty Bitty Titty Committee
(2007)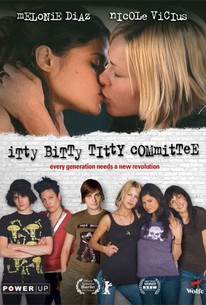 Movie Info
"Itty Bitty" is a lesbian rock and roll romp about Anna, an insecure, apolitical girl who encounters a radical political art group, falls in love with its leader, Sadie, and transforms from a girl into a woman.
Critic Reviews for Itty Bitty Titty Committee
Audience Reviews for Itty Bitty Titty Committee
½
This is quite simply queer and enjoyable. If you have any interest in queer politics and want some sugar to make the medicine go down, this is a great watch. It's not a story of truly oppressed queers; this motley crew is just doing it because they know it's what they believe in. Perhaps they are young, and some are motivated by booty and fame than legitimate social change, but it is damn amusing to watch them try. The basic storyline is very vanilla, but the concepts discussed and political actions taken by the group are very radical and refreshing. I wish there was a C(i)A in my town.
_kelly .King
Super Reviewer
½
Delightfully campy and feminist comedy - so much fun, highly recommended for girls of the gay and the straight variety.
I actually turned this one off at one point. It seemed not all that good and cringeably stereotyped with the lesbian/militant feminist thing. My husband was in the room and I actually felt embarrassed as it was so anti men and switched it off. Does equality for women have to mean degrading men?! Surely that makes us as bad as what we're fighting against. His comment was that they were all have to be so angry in these films. I don't think it helps the whole lesbian/man hating cliche to keep doing these portrayls, and alienates straight women, who are surely just as likely to be feminists. I was kind of disappointed in this because I really liked "But I'm a cheerleader" - that one actually did have something worthwhile to say. I decided to watch the end on my own later on, and while it t did improve a little, not enough to change my overall impression. I liked the actress who played Sadie, she was reasonably convincing, and also the older actress who played her girlfriend. The rest of them were very cliched. Disappointing.
Nicki Marie
Super Reviewer
Itty Bitty Titty Committee Quotes
There are no approved quotes yet for this movie.