Boy Eats Girl
(2005)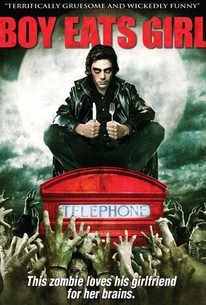 AUDIENCE SCORE
Critic Consensus: No consensus yet.
Movie Info
The emotional torment brought upon by the schoolyard bully or the desire to fit in can't hold a candle to the soul-shredding terror of realizing that your high school sweetheart has become a flesh-eating ghoul, and when a lovelorn teen develops a taste for his fellow classmates, the stage is set for a frightful good time in this horror comedy from director Stephen Bradley.
Critic Reviews for Boy Eats Girl
There are no critic reviews yet for Boy Eats Girl. Keep checking Rotten Tomatoes for updates!
Audience Reviews for Boy Eats Girl
½
Since starting The Walking Dead, I've been on a bit of a zombie craze, and decided it was time to check out and old movie that had a really interesting cover. Unfortunately, the cover is the only interesting thing about Boy Eats Girl. This was a low budget, independent film, made in Ireland, and boy does it show. The story centers around teenage Nathan, played by a much older guy, who is having girl problems. Nathan is all worried about his female trouble, when he has a fatal accident, or at least one that should be fatal. His mom, not wanting to let go of her son, uses an ancient book on voodoo to bring her son back. The story was very typical for this kind of film, however the budget was so low that parts of it looked like an episode of Goosebumps. Technical I suppose the movie is still considered rated R because of gore, even when the blood looks like V8 juice, but this film is anything but scary. Boy Eats Girl, promises a zombie film for the ages, but it's more laughable than anything else. The film is a mess of mumbled line and some of the worst effects I have ever seen.
Todd Smith
Super Reviewer
Hilarious! The movie follows a close group of friends in a small town. Nathan and Jessica secretly like each other, but cannot find the courage to tell each other about their feelings. At the insistence of Henry and Diggs, Nathan decides to tell Jessica. Cruelly, Jessica's father tells him that she's on another date. On his way home, he sees her in a classmate's car. Assuming that she's not at all what she appears to be, Nathan gets drunk and accidentally hangs himself. Distraught, his mother decides to use a voodoo book to bring him back. Although it didn't completely work, Nathan is led to believe he's fine until he can no longer curb his hunger which causes an outbreak of reanimated people. Jessica, Diggs, and Henry must fend themselves off. Great cast- David Leon, Samantha Mumba, Sara James, Laurence Kinlan, Tadhg Murphy, Deirdre O'Kane, and Mark Huberman. Worthy!
The gore doesn't really kick off until the end, but it contains many humorous moments, great dialogue and acting, and some original ideas. It could have been much better, but it's still a fun little zombie flick. A good way to kill 2 hours and fill up with popcorn and candy.
jd cryptic
Super Reviewer
Boy Eats Girl Quotes
There are no approved quotes yet for this movie.