Angels & Demons
(2009)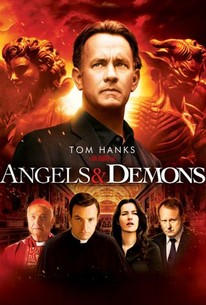 TOMATOMETER
AUDIENCE SCORE
Critic Consensus: Angels and Demons is a fast-paced thrill ride, and an improvement on the last Dan Brown adaptation, but the storyline too often wavers between implausible and ridiculous, and does not translate effectively to the big screen.
Movie Info
Angels and Demons re-teams director Ron Howard and star Tom Hanks for the sequel to their international blockbuster adaptation of Dan Brown's novel The Da Vinci Code. Although the book Angels and Demons was written before the novel The Da Vinci Code, the movie transpires after the events of the earlier movie. Hanks stars as professor Robert Langdon, the most respected symbologist in the United States, who uses his knowledge in order to decode a symbol on the skin of a murder victim. The clues put him on the trail of an international conspiracy involving the Catholic Church. Ewan McGregor and Ayelet Zurer also star in the Sony Pictures production. ~ Perry Seibert, Rovi
News & Interviews for Angels & Demons
Critic Reviews for Angels & Demons
Audience Reviews for Angels & Demons
½
With a much better pacing than the notably irregular The Da Vinci Code, this is an entertaining adaptation that delivers what it sets out to and is far superior to the novel, since it is clever enough to avoid some of its most ridiculous situations and implausibilities.
Carlos Magalhães
Super Reviewer
Much like the novel on which it's based (all of Dan Brown's Robert Langdon novels, in fact), if you can get through the first 10 per cent of the story - exposition and explanation clunking at every turn - you'll get swept up in the action and pace of the story. I might have even liked this movie more had I not read the book first, as I knew what the plot twist was going to be... and that I remembered this years after reading the book, when seeing the movie, is endorsement enough. Not nearly enough literature puts story first... whereas in (popular) film, you pretty much have to. Pulse-pounding, if a little contrived and overlong. Worth seeing once. I though Tom Hanks was especially well cast.
Daniel Perry
Super Reviewer
Follow-Up to the Da Vinci Code is an average adaptation of a very good book. Now I preferred the book of course, and I was curious to see how this one would look on-screen. Angels & Demons was a great book, exciting, pulse pounding and truly unique. Ron Howard's film version is much like his previous outing and it is a flawed, but nonetheless is entertaining for what it is. Acting wise, the cast do what they can with the so-so material and Tom Hanks doesn't really shine here, and he has performed in far better films than this. If you loved the book, you may like this one, but you'll also think it is lacking in terms of effective directing. Ron Howard used to make great films, but nowadays he seems fairly hit and miss=.Although Angels & Demons is a good film, it leaves a lot of room for improvement. This movie is simply a case of the book is far better than the film, and it lacks despite the fact that it delivers some entertainment value. I wasn't totally let down by this one, but there is just so many aspects that could have been improved upon. The best thing about the film is that they're fairly well adapted, but the performances just aren't as great as they should be, and the material could have been better in terms of the script. The problem I have with the film is that, though it's very close to the source material, there simply isn't any soul to the film. Overall it plays out like a mindless thriller that should have been truly something special. Angel & Demons is fun, but the book is better as it leaves constantly guessing and thrilled right up to the end. With the film adaptation, Ron Howard doesn't seem like he wants to take risk with changing a few things and really letting loose and making a movie that stands out as a fine thriller. Good, but could have been better. Read the book before seeing this average movie, you'll be glad you did.
Angels & Demons Quotes
| | |
| --- | --- |
| Vittoria Vetra: | Are you really a symbologist or it was a joke? |
| Robert Langdon: | Er... both. |
| | |
| --- | --- |
| Inspector Olivetti: | Are you anti-catholic, Professor Langdon? |
| Robert Langdon: | What?, No. I'm anti-vandalism. |
| | |
| --- | --- |
| Commander Richter: | God particle? |
| | |
| --- | --- |
| Father Simeon: | I need to see the Camarlengo. |
| Chartrand: | He is not available |
| Chartrand: | He is not available. |
| Father Simeon: | I NEED TO SEE THE CAMARLENGO! |
Discussion Forum
Discuss Angels & Demons on our Movie forum!