Company: A Musical Comedy
(2007)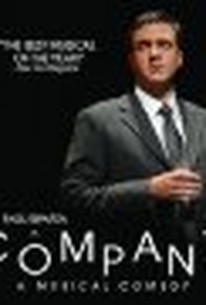 AUDIENCE SCORE
Critic Consensus: No consensus yet.
Movie Info
Centering on Bobby, a confirmed bachelor celebrating his 35th birthday with his 10 closest friends (who also happen to be five couples), "Company" culminates in Bobby's transformation from unattached swinger to tentative monogamist.
Rating:
NR
Genre:
,
Directed By:
On DVD:
Runtime:
Audience Reviews for Company: A Musical Comedy
"Company" is a great musical with music and lyrics by Stephen Sondheim. The story is presented as a series of vignettes that focus on different couples, all connected by the mutual and lonely friend Robert. I love the music. The film offers a lot of contrasting musical moments, from the impressionist chords at the end of the vocal Overture to the wordy Gilbert-and-Sullivan-like "Getting Married Today" and the emotional aria "Being Alive." Sondheim established a signature sound that is completely unique to this show and I could listen to the music all day. The plot, however, gets a bit darker than I was prepared for. I suppose that the steady theme of marriage discontent should have clued me in but I felt a slight disconnect between the upbeat songs and the progressively depressing subject matter. Still, the show has some great moments and the 2006 Broadway revival emphasizes them. The construction of the show is very cool, putting the pit instruments onstage in the hands of the actors. The choreography often features the instruments, almost as a piece of the character's personality (mellow trumpet, jazzy saxophone). The acting is superb, particularly Raúl Exparza as Bobby. His character begins so nonchalant that builds into an emotional crescendo at the end of "Being Alive." I was also blown away by Heather Laws as Amy, frantically spitting out all of her lyrics with perfect diction, and Barbara Walsh as Joanne during her emotive "The Ladies Who Lunch." Her voice got on my nerves a bit during her final scene, but I suppose that it perfectly embodied her drunken state. It is no surprise that this production won a Tony for Best Revival and we are so lucky to be able to experience this performance of "Company" far into the future!
Jonny Priano
I picked this up from the library over the holiday break, thinking a light musical would be a good watch one evening. I was absolutely not prepared for the emotional weight of Raul Esparza's performance. Fantastic.
Ryan Brazell
½
It's hard being a Sondheim fan. It really is. Especially if you don't live in much of a musical theatre town. Oh, you can hear certain of his songs anywhere--generally the ones from [i]West Side Story[/i], which he only wrote the lyrics for anyway. And, yes, there was [i]Sweeney Todd[/i], which of course I loved and had never expected to be made into a movie. But you know what the last of his shows before that to be made into an actual movie, not an episode of [i]Great Performances[/i] or something, was? Do you? I do. [i]A Little Night Music[/i], 1977. That's [i]twenty years[/i]. Now, by all accounts (I haven't seen it), the movie of [i]A Little Night Music[/i] isn't very good. I saw the show live about a decade ago, and I quite liked it. I've seen [i]Into the Woods[/i] live once. But that's the thing. You're pretty much stuck with live or [i]Great Performances[/i], because Hollywood isn't exactly knocking the man's door down, and the fans know they're never going to get that [i]Assassins[/i] movie, even if Neil Patrick Harris could be talked into starring in it as he did on Broadway. Hells, IMDB doesn't even have a page for this version. Not even searching by [i]Great Performances[/i] brings it up. Not even using Wikipedia helps. This, yes, is [i]Great Performances[/i]. Unfortunately, the only performer I can identify, due to the IMDB problem, is Raúl Esparza, who plays our main character, Bobby. Bobby is the lone single guy in a group of married people. Bobby is pretty immature, frankly. The show opens with his 35th birthday. He is surrounded by couples, all of whom appear to be some variety of crazy. The women, at least, all think that Bobby would be happier if he were married. The men are jealous of all the women who come and go in Bobby's life. There's Kathy, who wants to be married and live happily ever after not in New York, April the flight attendant, and Marta the wild New Yorker. The only person Bobby ever asks to marry him is Amy--the morning she is supposed to marry Paul. I don't think this is Sondheim's best show, but it's still pretty good. It's really funny, for one. "Getting Married Today" is absolutely hilarious. Joanne, the rich drunk, sings "The Ladies Who Lunch," which is a great tune all on its own. Three of the husbands--Harry, David, and Larry--sing "Sorry-Grateful," a sort of backhanded tribute to marriage. The thing is, Bobby sort of wanders from song to song, believing he is somehow cooler and more together than his married friends, concluding Act I with "Marry Me a Little," a song indicating his belief that he really is so ready to get married. Of course, he spends all of Act II not being serious about anyone in particular, so there's that. Yes, I'd rather be watching [i]Assassins[/i], but I've never had the chance to. And it's certainly true that this is funnier. Okay. Here's the thing. I kind of like the mostly-bare stage look. This story doesn't need a lot in the way of scenery, and it does really help the scenes blend together better. Without it, you'd need pretty complicated, [i]Into the Woods[/i]-y sets, and this musical is kind of too simple for that. That, visually, really works. What I [i]don't[/i] like is that the characters wander around, playing instruments. It's hard to get into some of the songs featuring the entire company when half of them can't sing because they're playing trumpets or flutes or whatever. I realize that the stage they're on doesn't really allow an orchestra pit, but I don't think that excuses it. I think it works to pull you out of the story when someone wanders around the stage with a bass with a wheel on the endpin. I think the performance would be better served by a small ensemble in a corner somewhere. I know. I'm fairly sure a lot of you have no interest in a musical that does not actually feature a serial killer; I'm sure some of you didn't even have interest in that. But I think you're losing out. I'm sure you're thinking of Maria and the kids wandering through the market in [i]The Sound of Music[/i], or--Gods help us--Yul Brynner stomping and scenery-chewing his way through [i]The King and I[/i]. I can watch [i]The Sound of Music[/i] every few years, but I haven't seen [i]The King and I[/i] more than once, and I probably saw it fifteen years ago. I certainly don't need to see it again! Musicals, like a lot of other genres, come in a fairly wide range of styles. The only thing tying Sweeney to Maria is the singing. Bobby is a lot different from either. It's okay if you don't like the songs, but how will you know if you don't hear them?
Edith Nelson
Company: A Musical Comedy Quotes
There are no approved quotes yet for this movie.