Monster
(2008)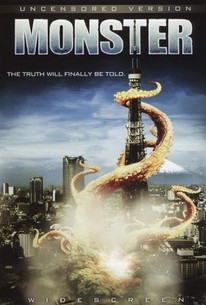 AUDIENCE SCORE
Critic Consensus: No consensus yet.
Movie Info
Two American sisters arrive in Tokyo to conduct interviews for a documentary on global warming, only for an earthquake to strike the city. Their footage reveals the truth is far more terrifying - the devastation was caused not by seismic activity but by a giant monster.
Critic Reviews for Monster
Audience Reviews for Monster
Monster is another obvious asylum rip-off. This time they've made their own take on Cloverfield which I absolutely loved. Each Asylum film I have watched has garned a certified "rotten" rating from me. The highest being Transmorphers at 40% still certifying it "rotten". Monster is the most boring, badly made, kill yourself before finishing movie I have ever seen The Asylum attempt to create.
Directors Cat
Super Reviewer
Absolute bilge. Avoid like the plague.
Chris Middleton
Super Reviewer
½
Obligatory rip-off of Cloverfield by Asylum who brought you alot of other rip offs collecting dust on the shelves at your local video store: Transmorphers, Alien Vs Hunter, I Am Omega and most recently, Allan Quatermain and the Temple of Skulls. Two sisters travel to Japan to make a documentary on global warming when an octopus monster (I think. It's never really seen.) shows up and tears up Japan. Not surprisingly it's not any good and it even gives Sci-Fi channel movies a run for their money.
A.D. Villarreal
Super Reviewer
Monster Quotes
There are no approved quotes yet for this movie.