In Bed
(2005)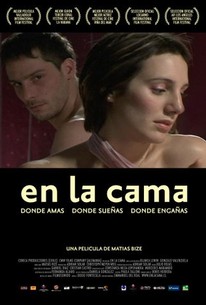 Movie Info
Director Matias Bize's erotic chamber piece details the debauched encounter between two strangers as they retreat to a seedy hotel room for an unbridled night of passion, only to find their personal boundaries and preconceptions about one another challenged as they attempt to get better acquainted. They've been as intimate as two people can be without even knowing each other's names, but now that the initial flames of passion have burnt out, it's time for these two lost souls to truly connect. Putting on their clothes as they lay their souls bare, these two intimate strangers cautiously mix truth with deception to create a tangled web of personal intrigue.
Cast
Critic Reviews for In Bed
Audience Reviews for In Bed
Human nature and interaction, while rarely exciting, when presented right is never boring. This is a fine piece of filmmaking all-around.
Jeff B
it works up to a point, and certainly if you want to watch hot actors (pretend) fucking, have at it, but it's like Before Sunrise lite.
Jack Gattanella
Intimate, spare film shot entirely within the confines of a motel room with only two actors. Seems like a recipe for a boring hour and a half. It is anything but. The action concerns two strangers who engage in a very sensual night of passionate lovemaking. In between, their conversation evolves from light banter, to probing questions, to deep self-revelations. At the end of the night, we know a whole lot more about what makes these two people tick. One believes if circumstances had been different, these two may have been able to build a life together. The actors are beautiful to look at, confident in their physicality, and able to convey a great deal without words. The script is without frills and loaded with lots of emotional frieght. This viewer felt fully invested in this relationship and hopes it may still turn out to be more than just one night, in bed. Four stars.
Mark Abell
Super Reviewer
In Bed Quotes
There are no approved quotes yet for this movie.
Discussion Forum
Discuss In Bed on our Movie forum!