Radiant City
(2007)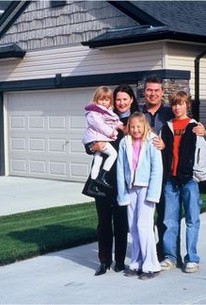 Movie Info
Radiant City, which represents the first collaboration between documentarist Gary Burns and journalist Jim Brown, takes as its springboard thesis the idea that suburban life is quickly becoming the norm for families across North America. It thus carries viewers inside of the "suburban mystique" via a protracted dissection of a clan that resides in a planned community, the Moss family. The film specifically examines how the suburban landscape, with its prefab houses, playgrounds, schools, strip malls, and community activities, continues to shape and define the lives and perceptions of these individuals -- from the father's involvement with a local theatrical troupe to the children's feelings of ennui and sense of removal from the neighbors in their subdivision. Burns offsets the picture's stark themes and undertones, however, with a sharp, wicked, and occasionally satirical sense of humor that never fails to catch the absurdities or ironies of this landscape. Musician Joey Santiago, from the band the Pixies, complements the images with a gritty rock soundtrack that draws out the sense of familial dislocation and desperation. The picture also traces the rise of suburbia historically, and features input by such suburban commentators as Mark Kingwell, from the University of Toronto, and writer James Howard Kunstler, who criticize the initial postwar model for suburban communities and suggest that it may not provide the optimal environment for living and raising a family.
News & Interviews for Radiant City
Critic Reviews for Radiant City
Audience Reviews for Radiant City
Why do they call this a documentary? It is made to look like a documentary but the people involved are all actors? Oops was that a spoiler? Serves you right Brown and Burns!
John Ballantine
Super Reviewer
½
Taking an actual drive through these type of neighborhoods makes me wonder why would people waste $$$ to live in such big houses & why would you want to live that close to your neighbors??? A great film that makes you feel sorry for the people who actually have to live in the burbs.Who knew they had it so rough? Feel sorry for the trees that had to be cut down or the land that had to be bulldozed so rich people could have a place to live or the poor people who were pushed out a neighborhood so people with $$$ could move in, take over & jack up the prices
Brody Manson
Super Reviewer
One sided at times, but definitely makes it clear that it is one sided, in a way. It's also a very beautiful looking film, and the shots are composed really well. This of course takes away from the realism, but then again, what documentary is actually "real".......
Patrick Dolan
Super Reviewer
Radiant City Quotes
There are no approved quotes yet for this movie.