Dolphins and Whales 3D: Tribes of the Ocean
(2008)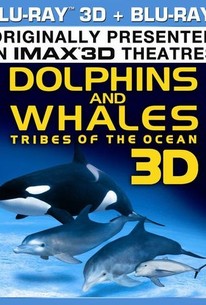 Dolphins and Whales 3D: Tribes of the Ocean Photos
Movie Info
This awe-inspiring documentary film narrated by Daryl Hannah will take you from the dazzling coral reefs of the Bahamas to the warm depths of the waters of the exotic Kingdom of Tonga for a close encounter with the surviving tribes of the ocean. Through the powerful IMAX(R) theatre medium and stunning images captured for the very first time in 3D, view their lives and habitats as never-before-seen. You will come so close to wild dolphins and belugas you will virtually touch them. You will witness the profound love of a Humpback mother for her newborn calf, and will come eye-to-eye with singing Humpback males. You will meet an orca, the mighty King of the ocean, and enjoy a wonderful moment with the gentle manatee. Explore many little-known aspects of these fascinating and fragile creatures capable of sophisticated communication and social interaction. Join this expert team of ocean explorers in an unforgettable diving experience that documents the life of these graceful, majestic yet endangered sea creatures.
Critic Reviews for Dolphins and Whales 3D: Tribes of the Ocean
All Critics (5) | Top Critics (3) | Fresh (4) | Rotten (1) | DVD (1)
If it makes some people be more careful about recycling and conservation, great. But filmmakers can't rely on the flash of IMAX 3D for success.
October 16, 2008 | Rating: 2/4
You want underwater scenes of staggering grace and beauty? You got it. You want scintillating narration? Well, you might be swimming in the wrong ocean where that's concerned.
Rarely have images been so breathtaking.
September 5, 2008
Audience Reviews for Dolphins and Whales 3D: Tribes of the Ocean
There are no featured audience reviews yet. Click the link below to see what others say about Dolphins and Whales 3D: Tribes of the Ocean!
Dolphins and Whales 3D: Tribes of the Ocean Quotes
There are no approved quotes yet for this movie.