Séance
(2008)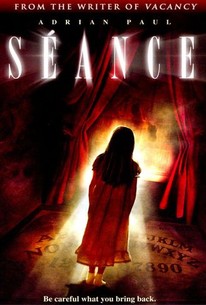 AUDIENCE SCORE
Critic Consensus: No consensus yet.
Movie Info
Vacancy screenwriter Mark L. Smith makes his feature directorial debut with this supernatural horror film about a college student who believes that her dorm room is haunted by the ghost of a little girl. Her roommates think she's crazy, but when Thanksgiving break rolls around and most of the students return home they decide to hold a séance in order to set the troublesome spirit free. But the students don't realize that a séance can't bring back a spirit that's already present, and by opening a door that should have remained closed they invite something far more malevolent into the dorm.
Critic Reviews for Séance
There are no critic reviews yet for Séance. Keep checking Rotten Tomatoes for updates!
Audience Reviews for Séance
It's an okay movie. The little girl ghost isn't very scary. I think they could've made her a little more creepy. She just looked like a regular girl to me, and that's not scary. The movie is also quite predictable, and it starts way too fast for my taste. The acting isn't terrible, but could've been better. It's got a few scares in it, but most are unoriginal (like the girl twisting her body in weird ways... The Grudge, The Ring, I've seen it before). It's not a completely worthless movie. Making scary movies that are actually scary is really hard to do, so I guess it's an all right movie. The ending was really not satisfying though. It leaves the viewer with too many questions. The whole movie is kind of pointless because of the ending- Is the ghost gone for good? Will any more people die? Will the students get charged for the murders of their friends? Is the little girl finally at peace?....etc..... Without answers to the questions, it's kind of like the movie is incomplete. I mean, I watched the entire movie hoping the bad ghost would die. I pretty much wasted my time because we're not sure what happened to the ghost.
This was one of those teenage Cult stuff. Not bad.
½
Actually not too terrible for its hyper low-budget pedigree. Well, yeah, it is kind of terrible, but I imagine the director could turn out a product fifty times better with a little bit of money in his pocket. I guess this is a little too generic for its own good, but it's fun and I had a decent time watching it with the crew. We had Shark Attack 3 waiting in the wings, though, and I do regret not watching that. Whatever.
Drew Smith
Super Reviewer
Séance Quotes
There are no approved quotes yet for this movie.
Discussion Forum
Discuss Séance on our Movie forum!