All Hat
(2007)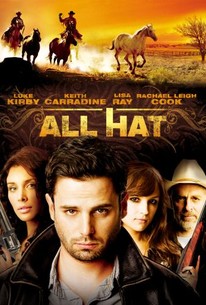 Movie Info
Luke Kirby and Keith Carradine star in director Leonard Farlinger's adaptation of author Brad Smith's laid back neo-western novel. Ray Dokes (Kirby) has just been released from prison, and now as the laconic ex-con makes his way back home he is stunned to see just how much progress has transformed the countryside of his youth. Looking to lie low for a while, Ray heads to the farm of his good friend Pete Culpepper (Keith Carradine). A garrulous farmer who's drowning in debt, Pete is a true Texas cowboy whose corn seems too stubborn to grow this season. The first order of business for Ray is to visit his old flame Etta (Lisa Ray, but things have gotten complicated since Ray was put away and making his way to the woman he loves isn't going to be nearly as easy as he had hoped. Soon after hooking up with firebrand jockey Chrissis (Rachel Leigh Cook), Ray discovers that his old nemesis Sonny Staunton (Noam Jenkins) - the wealthy heir to a thoroughbred dynasty - is currently attempting to buy up as much farmland as possible in order to start breaking ground on a luxurious new golf course. It seems that Etta is the only member of the rural community bold enough to stand up against Sonny, but when a valuable thoroughbred goes missing from Staunton Stables the desperate entrepreneur forces the sale of the area's few remaining farms. Realizing the danger of contending with such a powerful and determined man (after all, it was Sonny who got Ray locked away in the first place), Ray does his best to sideline Sonny's nefarious plan and save the remaining farmlands without making the one false move that could land him back in jail.
Critic Reviews for All Hat
Audience Reviews for All Hat
Blah drama with decent performers and performances but its all meaningless.
All Hat Quotes
There are no approved quotes yet for this movie.