April Fool's Day
(2008)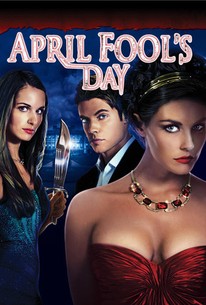 AUDIENCE SCORE
Critic Consensus: No consensus yet.
Movie Info
The beautiful people prove just as susceptible to death as their lower-class counterparts in this Butcher Brothers shocker about an upper-crust prank gone horribly awry. It's been a full year since Milan Hastings was killed in an elaborate prank organized by elitist heiress Desiree Cartier and her scheming brother, Blaine, and now the most popular kids in their social set are dropping like flies. No one is safe from the unseen killer who stalks their ranks, not aspiring actress Torrance, gay gossip columnist Charles, self-absorbed beauty queen Barbie, or her Republican fiancée, Peter -- a promising political hopeful. As the body count begins to rise, Desiree suspects that aspiring filmmaker Ryan may be to blame given that he still carries a torch for his beloved Milan. But the reality is much more complicated than that. It would seem that someone out there knows the truth about Desiree's nasty little prank on Milan, and they're willing to go to extraordinary lengths in order to elicit a confession from the scheming heiress. Desiree has been harboring a dark secret ever since that fateful night when Milan died, and this April Fools Day the folks who have since suffered for her greed will finally get to watch as the girl who had it all gets her just deserts.
Critic Reviews for April Fool's Day
All Critics (3) | Fresh (0) | Rotten (3)
Exceedingly stupid and convoluted, leading to a big 'huh?' ending. April Fool's, indeed.
The remake ignores the fun of the original in favor of a twisted tale of revenge.
A dull-as-dirt slasher movie invaded by fashion model rejects from the CW network.
Audience Reviews for April Fool's Day
Tawdry, low-budget schlock, April Fool's Day feels more like a cheesy soap opera than a horror film. A year after rich socialite Milan Hastings is killed in an apparent April Fool's Day prank gone wrong, she returns from beyond the grave to blackmail a group of her former friends to force her murderer to confess or they'll all be killed. The acting is terrible and the writing is atrocious; featuring some really awful dialog. The who-done-it isn't the least bit interesting and there's no suspense to any of the killings. At times April Fool's Day verges on being "it's so bad it's good," but it ends up just being bad.
Dann Michalski
Super Reviewer
Not a good movie. It's not a remake of the original it just steals the title and part of the plot... sorta. Weak acting and bad writing made this really hard to sit through. I can tell they didn't have quite enough footage for the length of movie they were shooting for because we spend a lot of time in establishing shots. It feels like an empty world as well. Not enough people walking around this small city. Straight to DVD crap here folks. Nothing to see here. Move along.
Jason Spencer
Super Reviewer
½
A so-so remake of the cult classic, although this time it is totally different characters and story but with the same idea. So if you have seen the original, if not then why?, you already have a good idea of how it will turn out. This is one of the main problems as it loses any sense of tension of the first film with its setting on a remote island. Despite the low budget TV movie feel, it was still watchable with a young trendy cast. Don't rush to see it but it's not that bad.
April Fool's Day Quotes
There are no approved quotes yet for this movie.