Storm
(2005)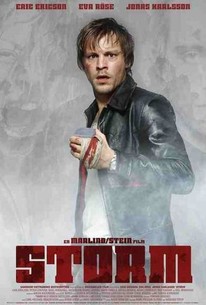 AUDIENCE SCORE
Critic Consensus: No consensus yet.
Movie Info
The action film Storm concerns a journalist named Donny (Eric Ericson) who, after a chance meeting with a woman in a cab, becomes ensnared in a series of life-threatening experiences. She was once in possession of a box that some very bad men are willing to do very bad things to get. Donny goes on the run after being accused for murder, but he ends up having to face his own past involving a handicapped brother.
Rating:
NR
Genre:
, ,
Directed By:
Written By:
On DVD:
Runtime:
Critic Reviews for Storm
There are no critic reviews yet for Storm. Keep checking Rotten Tomatoes for updates!
Audience Reviews for Storm
Started off very good, but then it seemed like the director had no idea where he wanted to go with the story. Some parts were enjoyable and nicely executed, while others made no sense whatsoever or were just cheesy rip-offs from American movies. If they had just stuck with the greatness and originality of the first 20 minutes, this could have been a memorable Swedish classic. Unfortunately, however, it all just ended up in a mediocre mess that leaves you disappointed and confused.
What the hell happened here? The movie advertises itself as a cross between the Matrix and Eternal Sunshine. Well, to me, it was a cross between Timur what?s-his-names? Wanted and The Butterfly Effect, two movies that aren?t nearly as good. It have a nive visual style, makes some great scenes, good performance from the lead and patience with some situations. But it?s all barfed up with completely ambiguous lead-ins and transitions that you don?t have a clue where it was going and what it meant. Maybe it was just me that wasn?t bright enough to get it. I followed it to understand what was supposedly happening in his past that shaped his current. How that makes him a key figure in this battle, I didn?t get. The battle itself, not developed enough. The relationship to the real world, no there. How these things happen to him, nothing. I?m sure there was something to be said here by the writers, but I hope they didn?t get frustrated like I did and just give up and say ?good enough, it?s got style?.
Lee B
Grab a bowl and toss in a sprinkling of the good parts of the Matrix trilogy, with a heaping of the bad parts, some crumpled up pages of Neverwhere, and a pinch of stylized action / violence from movies like Domino or Unleashed, then mix together and you?ve basically got Storm. Now, I?m not saying it was a bad movie. It was just poorly executed. On the surface, Storm seems pretty interesting, even if the basic premise has been done very well in the past. The gist of the film goes like this. Main character, Donny is basically wading through life not really doing anything. On the way home one night, a crazy redhead jumps in his cab and gives him a little box and then runs away as she?s chased by a bunch of crazy neo-skinheads. Donny walks around with the box and these guys start chasing him and he?s framed for murder or something. Then he travels within to find out that he?s repressed all these memories of him being a total asshole. So I now hate this character that I didn?t really care about to begin with. Way to go, movie. Eventually he opens the box and pulls some bullshit memory about a character we?ve never heard about completely out of leftfield and the film just sort of stops. While I think certain films can get away without a tedious backstory, this one brought up too many things NOT to explain them. You can?t feature a warehouse filled with people playing a game featuring the redhead girl along with a comic book featuring the same chick without explaining it. Are you in a video game? Is this part of some grand scheme? Or is that some bizarre coincidence? While we?re at it, who or what the hell is the redhead and why should Donny give a shit? For that matter, why is Donny wrapped up in this at all? Do the contents of the box change from owner to owner or were these guys seriously after what was inside? See what I mean? Too many questions and virtually no answers. Visually, the movie is great. If I watched it without the subtitles (it?s in Swedish or something), it would be pretty cool. You?ve got some interesting fight scenes and just plain good direction. The story though?not so much. Towards the beginning there were these great little cut-away scenes where you saw what Donny was thinking. This reminded me of bits of Amélie where you were able to see what was going through the mind of the main character with a sort of cut scene. To sum it up though, I feel like Storm couldn?t decide what kind of movie it wanted to be. It had elements of sci-fi, horror, action, and drama all rolled together in this cage match for the title of main genre. That struggle ultimately killed it for me. I could see this being a fun movie to have on in the background, but not something to pay too much attention to. If you do, you?ll end up being rather disappointed.
James Ferguson
Storm Quotes
There are no approved quotes yet for this movie.