Killing Zelda Sparks
(2007)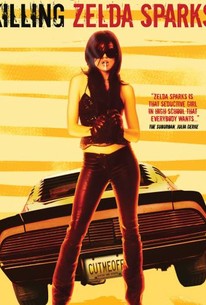 AUDIENCE SCORE
Critic Consensus: No consensus yet.
Movie Info
In the small hours of the night, when one man's life explodes into sudden chaos, a simple telephone call to his former best friend will forever change the lives both in ways that neither could have ever anticipated. It's 2:00am, and Terry Seville's telephone is ringing. On the other end of the line, the panicked voice of Terry's high school buddy Craig Blackshear begs for help. It's been a while since Terry and Craig have parted ways, but by the sound of Craig's voice things are looking pretty dire. Upon making the decision to reach out and lend Craig a helping hand, the demons of the past will emerge to spin a complicated web of lies that threaten to turn deadly. One thing is for sure: By morning there will be a new obituary in the New Essex Beagle. The only question that remains now is whose.
Rating:
NR
Genre:
,
Directed By:
Written By:
In Theaters:
On DVD:
Runtime:
Audience Reviews for Killing Zelda Sparks
½
I know encouragement helps your performance Craig Blackshear dated one girl most of his life, Zelda Sparks, and every time he tries to get rid of her, she sucks him right back in. She was a chronic liar and cheated on him regularly. Now that she is out of town, and they've both graduated, Craig thinks he is past Zelda and can move on in life with his new girlfriend. Just as things begin getting serious with Craig and his girlfriend years after high school, Zelda returns... "Keep standing or be a passenger the rest of your life." Jeff Glickman delivers Killing Zelda Sparks in his directorial debut. The storyline for this picture isn't overly original; however, the characters are interesting and well presented. The script is clever and there is a few comedic lines sprinkled here and there. The cast delivers solid performances and includes Sarah Carter, Vincent Kartheiser, and Geoffrey Arend. "I'd be praying my pecker doesn't fall off in the shower." This is one of those movies that you watch and catches you off guard. This was better than I anticipated by a long shot. I had never heard of this movie and decided to DVR it when I saw the poster while flicking through the channels. This movie has a combination of a clever script, great characters, and an entertaining plot and pace. This movie is an underrated gem that is worth your time. "You've had your head shoved so far up your ass you see in beige." Grade: B-
Kevin Robbins
Such a manipulative movie!! Luvs how she manages to mess up the dudes life...Heheh...and how she sooo got to hit that before he could...Heheh..funny...
d3LiRiOuSlY MiMzY
This film surprised me. Not in a "I couldn't see that coming way," but in the way that a movie sticks with you days and weeks after watching it. I didn't expect this from a movie I had never heard of even though I now know it won the Heineken Red Star Award at the San Diego Film Festival. The dialog, characters, and events in the film are vivid, hard-hitting, shocking, and very true to life. We all know people like Craig and Terry stuck in their twentysomething turmoil, trying to legitimize their placement in adulthood, but unable to advance past their teenage eccentricities. They are antiheroes which only fits this crazy fun dark comedy about lies, love, and friendship. If you're in college, buy the DVD and watch it many many times while you drink with your buddies. You will be quoting this movie immediately and laughing your asses off!
Brooks Thompson
Killing Zelda Sparks Quotes
There are no approved quotes yet for this movie.
Discussion Forum
Discuss Killing Zelda Sparks on our Movie forum!