Suspension
(2008)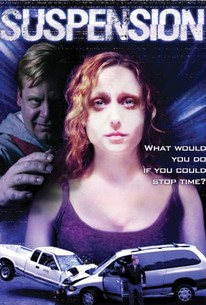 AUDIENCE SCORE
Critic Consensus: No consensus yet.
Movie Info
After a well-adjusted husband and father experiences the most devastating crisis of his life, events take a most unexpected and incredible turn in Suspension, Ethan Shaftel and Alec Joler's offbeat science fiction fantasy. Scott Cordes stars as Daniel, a family man whose life is seemingly destroyed when his wife and son are killed in an automobile accident, leaving him completely alone. During his intense period of physical and emotional recovery, Daniel uses down time to repair his son's video camera, which was damaged in the crash and somehow "absorbed" the otherworldly power to stop time in its tracks. This amazing discovery re-instills a sense of self-importance and meaning in Daniel, and he quickly turns to another surviving victim of the same tragedy: Sarah, the widowed wife of the other driver from the same accident. Daniel wants nothing more than to help her and begins taking a series of steps in this direction. Unfortunately, Daniel's innate altruism soon outstrips his control and grows decidedly impure, as his magnanimity turns into a compulsion.
Critic Reviews for Suspension
Audience Reviews for Suspension
Very interesting and unusual little film. Something about it didn't quite sit right, but on the whole I thought it was a good effort and I do intend to sit and watch it again sometime and see if I can follow it a little better. The acting was very good too from a no name cast (well, no one I had ever heard of, anyhow). If you like unusual, you may want to check it out.
Nicki Marie
Super Reviewer
It sounded sort of lame, but it had time/space continuum stuff so we watched it. And it sucked. The plot was nothing and the main guy was just really creepy and the girl was lame and I just wanted them both to die and leave me alone.
Lauren Donis
Super Reviewer
Suspension Quotes
There are no approved quotes yet for this movie.